Toshiba Infrastructure Systems & Solutions Corporation Environmental Policy
Toshiba Infrastructure Systems & Solutions Corporation provides products and services which solve global common issues including climate change, and supports the safety and security of people and the well-being of society, with the motto "Care for People and Contribute to Society" through our technologies and partnerships accumulated over decades in social and industrial infrastructure business.
In addition, we position the environmental initiatives as one of the most important priority tasks in our corporate management, then strive to create enriched value, ensure harmony with the earth for people around the world and contribute to the achievement of Sustainable Development Goals (SDGs), guided by "Committed to People, Committed to the Future" of the Essence of Toshiba.
1. We promote environmental management harmonized with business operations throughout the group companies worldwide.
We strive for continuous improvement and progress of our environmental management system to help improve environmental performance.
We continuously assess environmental impacts of our business through their life cycle and clear environmental objectives.
We comply with all applicable environmental laws, regulations, along with our own voluntary standards to which we subscribe.
We will promote Green Procurement to purchase environmentally-friendly goods and parts.
We will further promote communications with stakeholders through actively disclosure and social contribution activity.
We strive to raise employees' environment awareness through continuous environmental education and enlightenment activities.
2. We work to reduce environmental impacts toward the realization of a sustainable society.
(Response to climate change)
We will reduce greenhouse gases by using energy efficiently and reducing SF6 emissions.
We will provide products, systems and solutions which contribute to reduce greenhouse gases.
We will contribute to support changes to our society to deal with climate change by promoting disaster prevention and mitigation business.
(Response to the circular economy)
We recognize that resources are finite, and will use resources effectively and reduce the volume of generated waste.
We will strive to improve resource efficiency of products including packing material.
(Consideration of ecosystems)
We recognize the impact to ecosystems depending on our business activities, and will strive for natural environment and biodiversity conservation.
We will strive for environment conservation throughout the effective use of water resources and prevention of pollution.
We will work to prevent pollution from chemical substances and reduce environmental risks.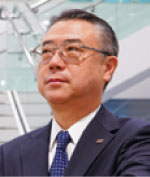 April 1st, 2021
Takayuki Konno
President and CEO
Toshiba Infrastructure Systems & Solutions Corporation

Toshiba Infrastructure Systems & Solutions Corporation Environmental Policy