Corporate Research & Development Center
Information & Communication Platform
7 kW Wireless Power Transmission Technology for EV Charging
TOSHIBA REVIEW SCIENCE AND TECHNOLOGY HIGHLIGHTS 2014
Toshiba has developed a safe, easy-to-use contactless battery charger using wireless power transmission for electric vehicles (EVs) and plug-in hybrid electric vehicles (PHEVs). Wireless power transmission simplifies the charging process.
The newly developed charger has been tested in combination with the controller of an SCiBTM secondary battery mounted on an EV. The test has verified that the charger has a capacity of 7 kW, which halves the charging time compared with the 3 kW-class wired onboard chargers that are most widely used in Japan.
The transmitting pad placed on the ground, measuring 60 × 40 cm, can be up to 16 cm away from the receiving pad of the same size mounted on the underside of a vehicle. This means that the contactless charger can be used to charge the battery of most EVs and PHEVs. The charger provides high power transmission efficiency even when the transmitter and receiver coils are laterally misaligned by up to 15 cm.
The charger controls both the power transmitter and receiver via wireless LAN and dynamically selects the optimal charging voltage according to the changes in the state of charge of the secondary battery, maintaining an almost constant power transmission efficiency.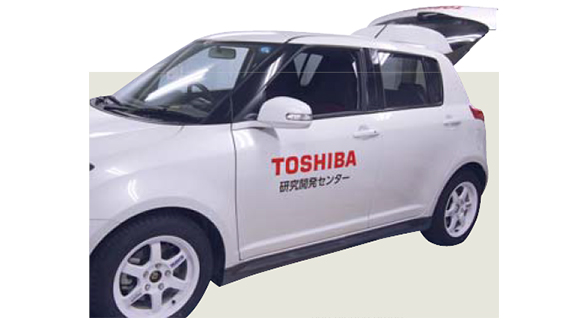 EV incorporating 7 kW wireless power transmission system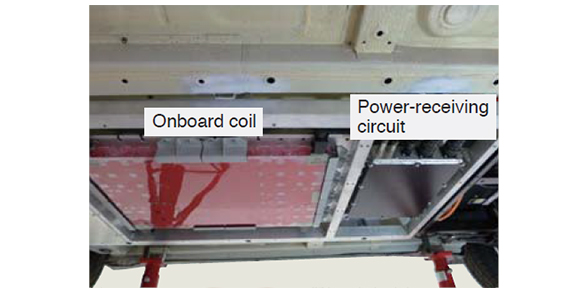 Coil and power-receiving circuit installed on underside of EV