Corporate Research & Development Center
AMSO™ Unified Key Management Mechanism for Secure Wireless Mesh Networks
Wireless mesh networking technology is widely used for smart meters. Toshiba has developed a unified key management mechanism called AMSO™ (advanced meter sign-on) for wireless mesh networks. AMSO™ provides two main functions to ensure the security of wireless mesh networks: network access authentication and key delivery.
Network access authentication is essential to prevent a malicious node from connecting to a wireless mesh network. However, it is difficult for a centralized server to authenticate a smart meter that is not directly connected to a base station. To overcome this difficulty, AMSO™ makes use of an authentication relay technology. Once a smart meter is authenticated, the smart meter acts as a relay node to mediate the network access authentication process between the centralized server and newly connecting smart meters.
Data protection is also required because data in a wireless mesh network are exposed to threats such as eavesdropping and data alteration. In a network secured by AMSO™, a centralized server supplies smart meters with keys for data protection. Keys are delivered by the centralized sever in encrypted form so that the keys themselves are not leaked to unauthorized nodes. Furthermore, AMSO™ supports automatic rekeying by periodically delivering new keys.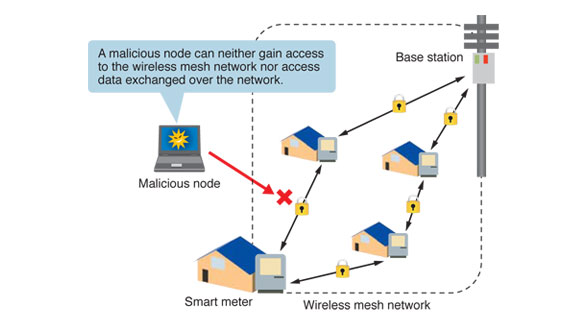 Outline of AMSO™ unified key management technology realizing secure wireless mesh networks