Corporate Research & Development Center
Information & Communication Platform
Android™ Security Technology for Enterprise Use
Toshiba has developed an Android platform with enhanced security for tablets designed for enterprise use.
The existing Android platform does not fully support security and device management features that are essential for the use of tablets in enterprises.
We added enhanced features for security and device management to the Android platform by utilizing our system security technology to make it possible to prevent users from installing and invoking unauthorized applications, and restrict the use of secure digital (SD) cards and universal serial bus (USB) and Bluetooth® devices. These features can be controlled under a policy defined by an information technology (IT) manager through the management application installed in our Android tablets. The new Android platform prevents the use of unauthorized applications on and leakage of information from tablets.
Android is a trademark of Google Inc.
The Bluetooth® word mark and logo are registered trademarks owned by Bluetooth SIG, Inc.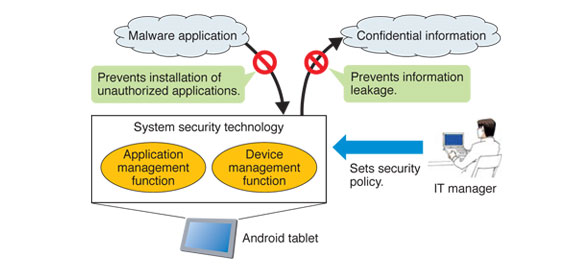 Overview of tablet security system for enterprise use