Corporate Research & Development Center
HEMS Communication Based on ECHONET Lite
The ECHONET™ Consortium, which discusses specifications for home networks in terms of smart appliances, has now released the specification for ECHONET Lite Ver.1.00. This allows the implementation of its communication stack and the installation of embedded devices to be easily performed due to the simplification of existing ECHONET™ specifications in view of the trends in home networks.
Toshiba has been participating in the relevant international standardization activities, and has contributed to the adoption of the related security specifications based on Internet Protocol (IP) technologies as well as to the expansion of the ECHONET™ specifications corresponding to smart energy devices. We have already released IP-based "ECHONET™-Ready" appliances. We have now developed prototype virtual ECHONET Lite devices, and confirmed the effectiveness of efficient energy cooperative control in a home energy management system (HEMS) integrating energycreating, energy-storage, and energy-saving functions.
*ECHONET is a trademark of the ECHONET Consortium.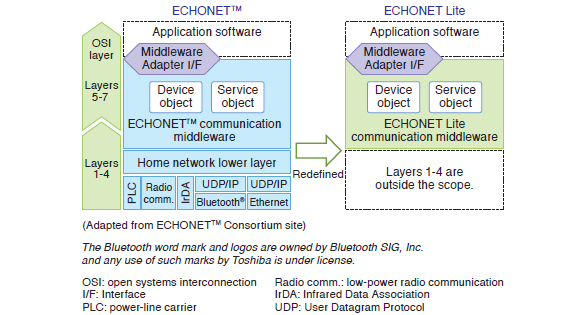 Comparison of architectures of ECHONET™ and ECHONET Lite

System designed to optimally control energy use in homes