Corporate Research & Development Center
Secure Smart Meter
There is increasing demand for secure smart meters capable of performing device authentication and cryptographically protecting exchanged data in order to provide various information services including metering applications.

Toshiba and Toshiba Toko Meter Systems Co., Ltd. have jointly developed a prototype smart metering system consisting of secure smart meters that incorporate the AMSO™ (advanced meter sign-on) unified key management mechanism developed by Toshiba and a meter data management system (MDMS) server for the North American market.

In order to reduce the processing cost for key management, AMSO™ makes use of RFC (Request For Comments) 5191. This is a standard network access authentication protocol, whose design Toshiba was closely involved in, that allows ciphering keys for multiple different uses to be generated from only one-time execution of device authentication.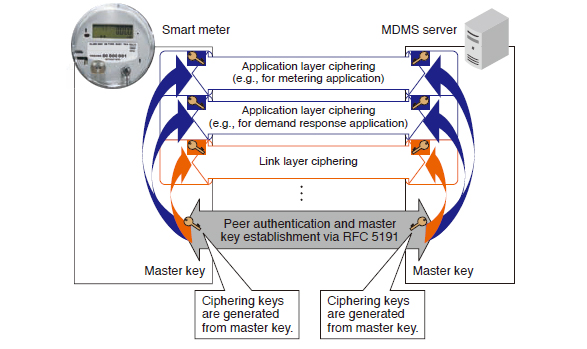 Prototype of AMSO™ unified key management system with smart meter