Pad Mounted Transformers
(Amorphous Metal/CRGO Silicon Steel)
Three Phase Pad Mounted Transformers are compact power centers for commercial or Industrial applications where safety, reliability and aesthetics are especially important, With proper design selection, they can be located near or inside the buildings for greater flexibility and savings.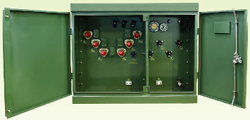 Benefits
Robust quality systems ensure implementation of the best design and manufacturing practices.
Flexibility in designing transformers to customer requirements (Optimum cost).
Compliance to international standards like ANSI, IEEE, etc.
Standard Fittings
Primary Bushings
Secondary Bushings with terminal connectors
Pressure Relief Device
Oil Filling Plug
Liquid Level Gauge
Drain Valve with sampler
Hinged Cabinet Doors
Sealed Tank Oil Preservation System
Rating and Diagram Plate
Technical Specification
Ratings
Single Phase
CRGO: Upto 1000 kVA
AMT: Upto 167 kVA
Three Phase
CRGO: Upto 1000 kVA
AMT: Upto 1000 kVA
Applicable Standards
ANSI
Insulating Fluid
Mineral Oil as per Specification / FR3
Frequency
50 Hz, 60 Hz
Vector Group
As specified
Primary Voltage
Upto 25 kV
Secondary Voltage
415, 433 V
(Other Voltages as required)
Winding Material
Copper / Aluminium
Tapping Range
+ 5% in steps of 2.5%
(Other tappings as required)
Impedance
In line with applicable standards
(or) as per customer requirement
Optional Fittings
Current Limiting Fuses with Breaker for LV
Bay-O-Net Fuses / Canister - HV
Elbow Connectors - Load Break / Non Load Break Switch
Dial Type Thermometer
Tap Changer
LV Distribution Panel
Applications
Industrial, Commercial, Institutional and Residential areas.
Indoor Installations like Cellars, Malls, Complexes where safety is prime concern.
Technical Parameters of the products contained in this website are generic in nature. Please contact us for any Latest / Updated / Specific Information.