Actions for the Achievement of Sustainable Development Goals (SDGs)(Case in FY2017)
Cases
Energy
Smart mobility
Buildings and facilities
Retail and printing
Disaster prevention
Production site management at an overseas subsidiary
Energy
[Case 1] Geothermal power generation system (Africa)
Toshiba Energy Systems & Solutions Corporation
Background
The percentage of people living without electricity throughout all of Africa is approximately 65%, which amounts to some 630 million people there*1. In such a region, ensuring a stable supply of energy and improving energy access as well as low carbonization are required.
*1

Excluding North Africa (Egypt, Libya, Tunisia, Algeria, Morocco, and Western Sahara). Source: JICA
Business overview

Olkaria Unit 4 Geothermal Power Plant in Kenya
Geothermal power generation is a type of renewable energy in which electric power is generated by rotating a turbine with natural steam from the heat of magma inside the Earth. Africa is a focus area of Toshiba Group's geothermal power generation business, and we have delivered steam turbines and power generation equipment to Units 1 and 4 of Olkaria Geothermal Power Plant which are the largest geothermal power plants in Kenya*2, in 2013. In addition to Africa, Toshiba Group has delivered 57 units of 3,687 MW (as of May 2018) power generation facilities worldwide, accounting for the top share*3 in the geothermal power generation equipment market of 23%. In recent years, we have expanded the business to other regions, including Indonesia and Turkey, contributing to resolving the issues around the world.
*2

Reference: JICA's detailed planning survey for the project for capacity strengthening for geothermal development in Kenya (2013)

*3

Source: Bloomberg News Energy Finance (Dec. 2017), based on installed capacity as of the end of December 2017
Contribution to SDGs
Goal 7: Energy

Goal 13: Reduction of CO2 emissions
A geothermal power generation system is a renewable energy system that can stably supply power without being affected by weather, etc., generates power at low cost, and emits less CO2 since operation is independent of fossil fuel.

Goal 17: Partnership
Up until now, we have worked on business development projects by concluding a memorandum on cooperation in geothermal power generation projects in Ethiopia, Tanzania, Djibouti, and Uganda with the counterpart governments and affiliated companies.

Goal 9: Economic and employment effect

Goal 4: Education
In addition to creation of guidelines needed for the development, supply, operation, and management of equipment, we have been supporting human resource development in terms of acceptance of trainees, etc.
Smart mobility
By applying the sensing and communication technology, battery technology, semiconductor technology, etc., we aim to achieve optimum operation of various traffic and energy for mobility infrastructure and energy.
[Case 2] Locomotive and freight transportation system supporting modal shift (global)
Toshiba Infrastructure Systems & Solutions Corporation
Background
Railway freight transportation plays an important role in physical distribution which supports our daily life. Modal shift is attracting attention as an effective measure for reducing environmental impacts like global warming by converting transportation means such as trucks over to trains and railways. And even for this type of railway freight, environmental needs such as further energy-saving in the entire system are increasing in Europe and other countries around the world.
Overview

Hybrid locomotive
Railway freight is pulled by electric locomotive and hybrid locomotive. After manufacturing electric locomotive for the first time in 1923 (during the era of our predecessor, Shibaura Engineering Works Co., Ltd.), Toshiba Group has been delivering electric locomotives to Japan and to various other countries, including China, India, Turkey, New Zealand, and South Africa. In recent years, interest in hybrid locomotive that uses a diesel engine, power generation equipment, and storage battery as the power source is growing even overseas where power and a high operating rate were once most in demand. By combining our knowledge about hybrid locomotives that we gained through experience in Japan with our technologies such as a high efficiency permanent magnet synchronous motors (PMSM) and lithium-ion rechargeable battery SCiB™. Toshiba Group has been deploying energy-saving solutions to overseas markets.
Contribution to SDGs

Goal 11: Sustainable cities
We have realized a safe, environmentally conscious, and sustainable transportation system.

Goal 13: Reduction of CO2 emissions
Goal 7: Energy
Using a high performance lithium-ion rechargeable battery SCiB™ as the main power source, this system has been contributing to reducing fuel consumption by effectively using regenerative energy as well as reducing emissions of NOx and other air pollutants.
By applying a high efficiency permanent magnet synchronous motor (PMSM) that can significantly reduce energy consumption, this system realizes even further energy saving.

Goal 12: Sustainable resource usage
The PMSM has a totally-enclosed structure, which requires no internal cleaning and significantly reduces the maintenance cost.
The system improves ease of maintenance by incorporating the modular concept adapted for the structure.
[Case 3] Intelligent transportation system (ITS) (Vietnam)
Toshiba Infrastructure Systems & Solutions Corporation
Background
As the economy progresses in the southern region of Vietnam including Ho Chi Minh City, the means of transportation has shifted from motorcycles to automobiles. The section between Ho Chi Minh City and Dau Giay City has become a highway for nearly 30 million vehicles since its partial opening in January 2014. However, the highway network was already at the saturation point due to the rapid spread of automobiles.
Overview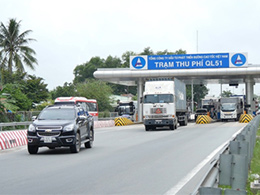 The intelligent transportation system (ITS) is a system that handles pedestrians and vehicles in an integrated manner with the most advanced information processing technology, and thereby resolves issues faced by road traffic such as congestion and accidents. ITS consists of a traffic control system, toll system, and other various systems, and in this project, we have delivered ITS equipment required for the newly built 55 km section, from the central unit to the roadside unit, all in one shipment. The equipment installation work and the on-site trial operation have been completed and formal operation started in March 2017.
Contribution to SDGs

Goal 11: Smart cities
In addition to a charge collection system including ETC, we have installed a vehicle detection system and introduced monitoring cameras, sensors for tracking weather conditions, as well as dedicated wireless communication equipment for road administrators. The system can support traffic demand that is expected to continue to increase in the future, which will lead to an increase in distribution efficiency and elimination of traffic jams.

Goal 13: Reduction of CO2 emissions
Traffic jam reductions will contribute to the reduction of air pollutants as well as CO2 emissions.

Goal 9: Innovation
The ITS will contribute to economic development in developing countries as an important road traffic infrastructure.

Goal 17: Partnership
The ITS package, which was developed by a consortium of Japanese companies including Toshiba Group for an overseas customer for the first time as Japanese companies, is a large project order received from the Vietnam Expressway Corporation.
[Case 4] Visconti™ image recognition processor (Japan)
Toshiba Electronic Devices & Storage Corporation
Background
The number of people that die from traffic accidents around the world is approximately 1.25 million every year. More than 90% of traffic accidents are said to be attributable to human error*. Autonomous driving is expected to contribute to reducing the number of people dying from traffic accidents through safe driving. It is also expected to reduce environmental impacts, reduce the burden on drivers, support safe driving by elderly people, and serve as a fundamental solution for social issues such as community revitalization. The key to this realization is a technology that supports driving by humans with respect to safety aspects, such as collision avoidance, parking assistance, and autonomous traveling, and a high accuracy image recognition processor for processing images from cameras, is essential.
*

A survey by WHO
Business overview
Toshiba Group has developed the Visconti™ series image recognition processor. We will provide a cutting-edge semiconductor technology that comprehensively supports human vision and driving sensations from a futuristic point of view.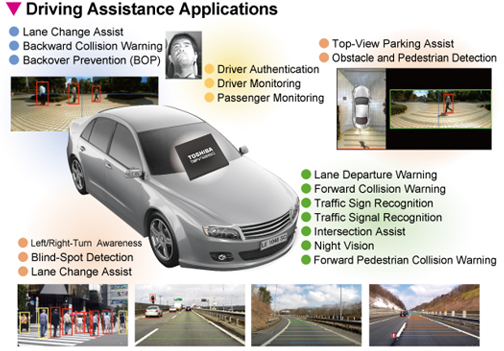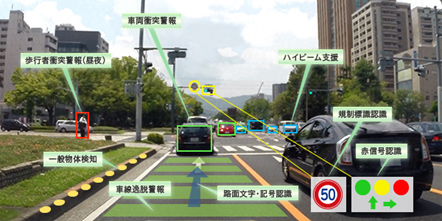 Contribution to SDGs

Goal 11: Smart cities

Goal 9: Innovation

Goal 3: Traffic accident reduction
The processor is capable of tracking road conditions in real-time and detects obstacles for taking evasive action. Safe driving support and autonomous driving of a vehicle require accurate recognition of pedestrians and other vehicles around the vehicle as images to ensure safety. Visconti™4 improves the nighttime pedestrian detection function and also enables detection of obstacles such as fallen objects on the road that have no standard shape or appearance by acquiring 3D information from time series images captured by monocular cameras. By reducing accidents attributable to driver human error with these functions, we will contribute to creating safe and smooth street traffic, and thereby realize neighborhoods where people from children to elderly persons can continue to live in safety.

Goal 13: Reduction of CO2 emissions
Improving image recognition requires a lot of signal processing and tends to increase power consumption. Visconti™4 achieves both high performance and low power consumption through various measures such as use of a multi-core processor, adaption of a unique image processing circuits, and support for low-power consumption memory.
[Case 5] Share-ride demand responsive transport system using AI technology (Japan)
Toshiba Digital Solutions Corporation
Background
The discontinuation of fixed‐routed bus services due to decreasing population and the increasing number of people who voluntarily return their driving licenses have led to an increasing number of people who have difficulty traveling, mainly among the elderly in Japan. In addition, under circumstances where regional revitalization is anticipated such as by inviting tourists and promoting exchanges among local residents, an affordable and convenient means of transportation is essential.
JUNPUZI. Co., Ltd. has developed a share-ride demand responsive transport system, Convenient & Smart Vehicle, jointly with the University of Tokyo and has been operating the system since 2009. Currently, 65,000 persons use the system every month at 42 locations nationwide.
Business overview
Share-ride demand responsive transport (taxi, bus, etc.) is public transport that operates only when a reservation is made. An operation plan (route, schedule, the number of persons boarding/exiting, etc.) is automatically set according to random requests from users regarding boarding and exiting points and the time.
In 2018, Toshiba Group and JUNPUZI Co., Ltd. launched a verification test of the share-ride demand responsive transport that uses AI technology. During this verification testing we aim to set up an efficient operation plan based on demand forecast. Based on big data consisting of data collected through the previous operation of the transport by JUNPUZI to which weather information, traffic information, and other external environment data is integrated, Toshiba Analytics AI SATLYS™ is used to forecast boarding/exiting places, time, and the number of people for up to several weeks ahead and visualize the results on a map, which is used for advance adjustment on the number of vehicles to be arranged, etc. We will also conduct verification of community revitalization activities such as events with expected demand.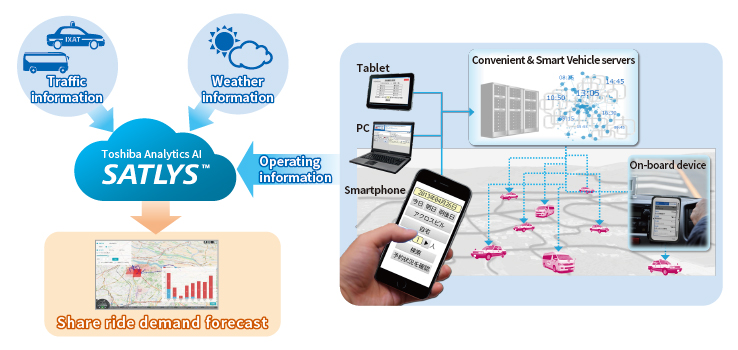 Contribution to SDGs
Goal 8: Job satisfaction, economic growth

Goal 11: Smart cities

Goal 3: Traffic accident reduction
This system contributes to increasing employment opportunities for people who have difficulty commuting and creating jobs for drivers and operators.
Increasing opportunities for people who have difficulty commuting will lead to the revitalization of community. This system also contributes to reducing the burden on local governments, creating community circles, increasing opportunities to use facilities, shops, and culture schools, and creating safe and comfortable neighborhoods through fewer traffic accidents.

Goal 9: Innovation

Goal 13: Reduction of CO2 emissions
This system realizes a mobility system that is best suited for changing communities through continued data analysis.
By realizing smooth integration with other public transport, this system also contributes to CO2 reduction, through dealing with a lack of parking lots, reducing opportunities for on-street parking, and reducing fuel usage as a result of the providing the best routes.

Goal 17: Partnership
While deploying the Regional Economy Advancement Project Plan in Chiba Prefecture to urban areas nationwide as well as the 42 locations throughout the country where the system is under operation as a pilot plan, Toshiba Group plans to work together with JUNPUZI to spread the system to various freight companies and transport operators which will lead each local economy in the future.
Buildings and facilities
[Case 6] Lazona Kawasaki Toshiba Building Smart Community Center (Japan)
Toshiba Infrastructure Systems & Solutions Corporation
Background
In Japan, 22% of GHG emissions comes from "business and other" sector (commerce, service, offices, etc.)*1, and a significant reduction in emissions in this sector is needed to achieve the GHG emission reduction goals for 2030. The Ministry of Economy, Trade and Industry aims to achieve net zero energy by 2030, by requiring that all new buildings be zero energy buildings (ZEB) or namely to achieve more than 50% energy savings while maintaining the quality of the indoor environment and then introducing renewable energy such as photovoltaic power generation.
To realize ZEB, continued promotion of energy saving will be necessary in addition to incorporating comprehensive measures, including architectural expertise, better equipment efficiency, energy management, and renewable energy.
*1

A survey by the Ministry of the Environment
Overview

Lazona Kawasaki Toshiba Building Smart Community Center
Lazona Kawasaki Toshiba Building Smart Community Center is the next generation of environmentally- and disaster-prevention-conscious office buildings, which meets "ZEB Ready," the energy-saving standard for building that can reduce CO2 emissions by 50% compared to other general office buildings. The building can reduce CO2 emissions by 35.8% through improved efficiency of the building and equipment and by 14.2% through smart BEMS. It has obtained CASBEE Kawasaki S rank and also received the Energy Conservation Grand Prize and Chairman of the Energy Conservation Center Japan's Prize (FY2016).
Contribution to SDGs

Goal 11: Smart cities

Goal 9: Innovation
With smart BEMS, the building can realize coordinated control of air conditioning and lighting according to the number of persons present by detecting the presence or absence of persons, enabling to achieve both energy-saving and comfort. The building can also visualize power consumption by floor or per person, which will lead to raising the energy-saving awareness of employees.
The building ensures BCP*2 by using a base-isolated structure and introducing a continuous operation system for elevator power failure that uses a private power generator for emergency and SCiB™, a power supply and demand control unit for disasters, etc. It has two 1,500 kVA emergency generators and a high capacity water tank for tap water and water for miscellaneous use, enabling supply of electricity and water for at least 72 hours.
*2

Business continuity planning for disaster and accident scenarios

Goal 13: Reduction of CO2 emissions
Goal 7: Energy
The building has high efficiency equipment, including air conditioning equipment, LED lighting, and elevators.
By reducing the exterior area with cubic architecture called EcoCube, the building ensures insulation.

Goal 17: Partnership
By working with Nomura Real Estate Development Co., Ltd., Nikken Sekkei, Ltd., Obayashi Corporation, and NREG Toshiba Building Co., Ltd. under a project structure where architectural planning, facility planning, construction, and operation are combined, the building succeeded in realizing the status of next generation of energy saving office building.
Retail and printing
[Case 7] Paper reuse system Loops (Global)
Toshiba TEC Corporation
Background
Paper, which is essential at any workplace, is still widely used due to its convenience as means for reading, writing and other handy features. However, reduction of paper usage is now essential mainly from an economic viewpoint since paper is costly to purchase, store, dispose, etc. and also from an environmental viewpoint since paper has environmental impacts in terms of disposal and resource usage. Therefore, Toshiba Group focused on paper reuse, which allows the amount of usage to be reduced while still using paper, which proves to be convenient, and so developed a paper reuse system Loops.
Business overview
The paper reuse system Loops can reduce paper usage by reusing paper printed with our unique erasable toner*1. The e-STUDIO 3508LP, 4508LP, and 5008LP hybrid MFP enable both erasable printing and non-erasable printing with a black toner (ordinary black and white printing) on a single machine, contributing to resource-saving and space saving as well as allowing users to use erasable printing comfortably and conveniently.
*1

The erasable toner has the feature that the print color disappears when a certain temperature is applied (Erase) and allows a single piece of paper to be reused many times by repeating the processes of printing, decoloring, and printing.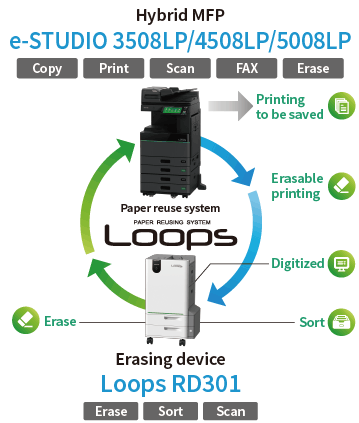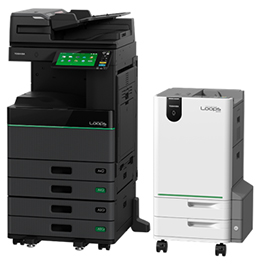 e-STUDIO 3508LP / 4508LP / 5008LP
Contribution to SDGs

Goal 9: Improve resource usage efficiency

Goal 12: Sustainable consumption and production
By reusing paper, the system contributes to improving the efficiency of paper resource usage and to reducing waste. Although the previous model (Loops 301) was a MFP that has the erasable printing function only, Loops LP35, LP45, and LP50 are hybrid MFP enabling both erasable printing and conventional monochrome printing with black toner in a single machine for effective use of resources needed to manufacture products. The system can also be expected to raise awareness on responsible consumption, leading the user to make effective use of limited resources.

Goal 13: Reduction of CO2 emissions

Goal 15: Prevent forest resource reduction
Reducing paper usage through paper reuse can contribute to reducing CO2 emissions and water usage attributable to paper manufacturing. When the same paper is reused five times, CO2 emissions throughout the lifecycle can be reduced by approximately 52%*2. In addition, reducing pulp usage through reduced paper usage will lead to the protection of forest resources through controlled cutting of lumber, the raw material.
Goal 8: Workstyle innovation
If there is a significant change in workflow, systematization that only focuses on improving operational efficiency may cause lower work efficiency which is the reverse of the intended result. As such, by using the paper reuse system Loops, for operations that can be performed more efficiently by using paper, a change can be made in the number of pieces of paper actually used and the cost and environmental impacts can be reduced without changing the operation flow. The paper reuse system Loops can contribute to workstyle innovation without significantly changing the workflow.

Goal 17: Partnership
In collaboration with PILOT Corporation, we have developed an erasable toner based on the technology employed for the FRIXION*3 series. The ink coloring material is created by encapsulating the color former, component for which color is to be developed, and color adjustor regulator in a microcapsule. At normal temperatures, a color is produced as the color former and the component for which color is to be developed are bound together. However, when a preset temperature is exceeded, due to the act of the color adjustor regulator, the color former and the component for which color is to be developed are separated and becomes transparent.
*2

Calculated based on Toshiba Group's calculation method

*3

FRIXION is a registered trademark of PILOT Corporation.
Disaster prevention
[Case 8] Multi parameter phased array weather radar (Japan)
Toshiba Infrastructure Systems & Solutions Corporation
Background
It is difficult to predict natural disasters, and what constitutes a disaster is changing with the times. In recent years, great damage especially by localized heavy rain (so called guerrilla rainstorms) or tornadoes due to climate change have become a major problem, and the frequency and scale of such disasters are predicted to increase. In response to this situation, in Japan, the Climate Change Adaptation Act was enacted in June 2018 and the national government, local governments, and companies are strongly encouraged to actively take adaptation measures to prepare for climate change risk.
Overview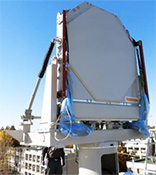 Radar antenna system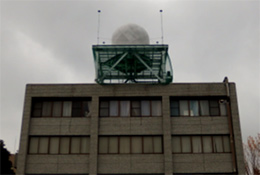 The MP-PAWR radome installed at Saitama University
As a measure for the Enhancement of Societal Resiliency against Natural Disasters promoted by the Cabinet Office of Japan, we installed the world first practical multi parameter phased array weather radar (MP-PAWR) developed by a study group including Toshiba Group at Saitama University on November 21, 2017.
The MP-PAWR uses the latest phased array antenna instead of the conventional reflecting mirror type. This antenna can capture rain clouds in a space about 15 km above the ground in 30 seconds within a 60 km radius or in 60 seconds within 80 km radius in a 3D image just by rotating it once. In addition, as a result of supporting a high accuracy precipitation measurement function, the MP-PAWR is capable of measuring the signs and rainfall of a guerrilla rainstorm faster and at higher accuracy than conventional weather radars. It can predict localized heavy rain and tornado hazards 20 to 30 minutes in advance at high accuracy by observing rapidly developing cumulonimbus clouds.
Contribution to SDGs

Goal 13: Adaptation to climate change
This radar provides adaptation measures for natural disasters such as localized heavy rains and tornadoes that occur due to the effect of climate change, and in this way reduces the risk of disasters.

Goal 11: Resilient cities
By using this radar to provide information on guerrilla rainstorms, floods, and heavy wind predictions, local governments can grasp those locations with a high flood risk in advance, allowing them to carry out flood control activities and give residents evacuation instructions well in advance.

Goal 17: Partnership
The radar was developed jointly by a study group consisting of National Institute of Information and Communications Technology (NICT), Tokyo Metropolitan University, Nagoya University, and Saitama University.
Production site management at an overseas subsidiary
[Case 9] Environmental Impact Reduction Measures at Toshiba Subsidiaries in India (India)
Toshiba Energy Systems & Solutions Corporation
Background
Due to a rapid increase in population and economic development, the problem of water shortage is becoming serious in India. It is said that 600 million people out of approximately 1.3 billion people in India are facing water shortage, and lack of safe water claims the lives of roughly 0.2 million people every year*1. River water and groundwater contamination is also a large problem there and the regulations on water discharge are becoming stricter, mainly in urban areas.
In addition, due to its geographical characteristics, India is one of the world's natural disaster-prone countries, with a risk of river flooding due to a cyclone or flood. Furthermore, India is currently the world's third country in the amount of CO2 emissions as a result of a rapid increase in the amount due to economic development, and how CO2 emissions in plants can be reduced is an important issue.
Under these circumstances, our manufacturing sites in India are strongly required to take actions for water risks, such as reducing water usage and managing water discharge, natural disaster measures, and other measures for reducing CO2 emissions.
*1

Source: National Institution for Transforming India Committee
Measures Overview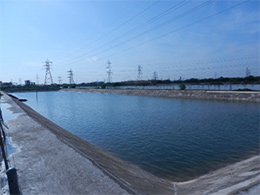 Reuse of rainwater and treated water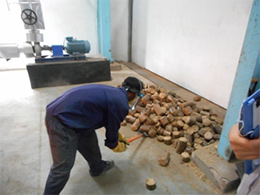 Use of a biomass boiler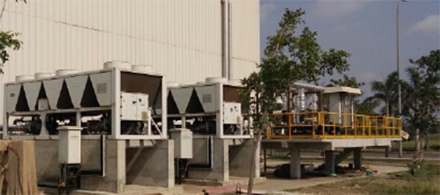 Raising the floor of equipment in preparation for disasters
Toshiba JSW Power Systems Private Limited has been working on saving water by reusing rainwater and treated water as a response to water risks. Specifically, the company waters plants in the premises by using rainwater stored in a pond and treats and reuses wastewater as cooling water and flushing water and thereby reducing wastewater discharged to outside the premises to zero. On the assumption that there may be a risk of its plants to be under water following a river flooding due to a natural disaster, the company also takes measures such as building a dike around the main equipment and installing control panels and private power generators on raised floors.
Toshiba Transmission & Distribution Systems (India) Private Limited has been using biomass boilers to reduce CO2 generated from its plants. The company burns 2,236 tons of biomass fuel using cotton waste in boilers installed in the premises, and uses the generated heat source for thermostatic ovens used in the manufacturing process. In addition, the company has been implementing comprehensive environment management activities, including the monitoring of flora and fauna in the premises and awareness raising activities for its employees as part of biodiversity conservation activities and composting leftover food of approximately 5,000 persons to green the plants as part of waste reduction efforts.
Contribution to SDGs

Goal 6: Effective use of water resources
By promoting the reuse of rainwater and treated water, we will achieve zero wastewater.
Goal 7: Energy
Use of a biomass boiler, which is carbon-neutral, allows us to reduce the amount of fossil fuel used and thereby significantly reducing CO2 emissions.

Goal 13: Adaptation to climate change
On the assumption that there may be a risk of plants being flooded by a natural disaster, we have taken actions, such as building dikes and raising the floor level for equipment.

Goal 15: Biodiversity conservation
We work on protecting the ecosystem by monitoring flora and fauna in the premises and encouraging animals to migrate to the premises. By posting pictures of flora and fauna taken through the process of monitoring, we also promote awareness raising among employees.