Recycling of End-of-Life Products
In order to ensure efficient use of resources and appropriate treatment of hazardous substances, in accordance with recycling regulations in each country and region of the world, Toshiba Group is promoting the collection and recycling of products that customers have stopped using. In Japan, in addition to products subject to the Act on Recycling of Specified Kinds of Home Appliances and the Act on the Promotion of Effective Utilization of Resources, we have established a unique scheme to collect elevators, MFP/POS systems, and other office equipment. Toshiba Group also observes the WEEE Directive* in Europe and state laws in the United States. Furthermore, we are preparing to respond appropriately to recycling-related laws enacted in China, India, and Australia and those expected to be enacted in the future by governments in other countries in Asia and Central/South America.
*

WEEE Directive: The European Union (EU) Waste Electrical and Electronic Equipment Directive
Case in FY2016
Case : Reuse of solar panels
Toshiba Environmental Solutions Corporation
Toshiba Group is developing technologies for recycling and reusing solar panels that are likely to be disposed of in increasingly larger amounts in the future.
We delivered a 30-kW power system that employs Toshiba-developed reuse technology to the Smart Hydrogen Station (operator: Misawa City Solar System Maintenance Business Association) in Oirase-cho, Aomori. The solar panels used in this power system are those taken from the solar systems damaged during the Kumamoto Earthquake (2016) and the flood in Obihiro City, Hokkaido (2016) but diagnosed as non-damaged.
We will continue to develop environmentally conscious technologies and provide more advanced solutions in the area of solar panel recycling and reuse, thereby contributing to society.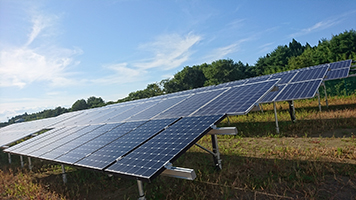 Reused solar panels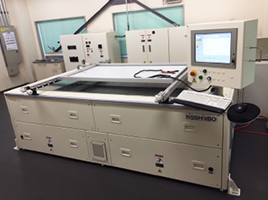 Solar simulator
(Major equipment for reuse diagnostic technology)