Management of Chemical Substances Contained in Products
Initiatives for Management of Chemical Substances Contained in Toshiba Group Products
Toshiba Group provides a wide range of products, from electronic devices to building- and facility-related equipment, industrial systems, and energy and social infrastructure products. Various chemicals are used to manufacture these products. Toshiba Group considers "minimizing the risks involved in the use of chemicals," the precautionary principles proposed and adopted at the WSSD*1 and other conferences, as an important challenge to address if it were to properly manage these chemicals. We have been promoting initiatives to specify the chemicals to be managed, to eliminate the use of specified chemicals (including the use of substitute substances), and to reduce the amount of chemicals contained in our products. In addition, we share information on such specified chemicals in each process of our production activities in order to minimize the risks of these chemicals to human health and the global environment.
Also, to respond to the globalization of business, Toshiba Group takes global measures to manage chemicals contained in products. We gather and assess the latest trends in policies and regulations on chemical management of countries around the world and reflect them in Toshiba Group's management of chemicals.
Furthermore, Toshiba Group promotes the Green Procurement initiative, which specifies prohibited substances, which are prohibited from use in procured items such as product materials and parts, and managed substances, which are monitored for use in procured items, to be reduced and substituted to mitigate their environmental impact. Our aim is to procure products, parts, and materials with less environmental impact in cooperation with our business partners and suppliers.
Rank A (prohibited) substances are those prohibited or restricted from use in products (including packaging) by laws and regulations in Japan and abroad, and include substances on the Declarable Substance List of IEC 62474: Material Declaration for Products of and for the Electrotechnical Industry prepared by the International Electrotechnical Commission (IEC). For substances in the IEC 62474 Declarable Substance List that are stated on the Candidate List of Substances of Very High Concern (SVHC) of EU's REACH Regulation, we manage them as Rank B (managed) substances.
Toshiba Group Environment-related Substance List
Category
Definition
Rank A
(Prohibited Substances)
Substances whose presence is prohibited in procurement items (including packaging) in Toshiba Group. Substances whose use in products (including packaging) is prohibited or restricted by domestic or foreign laws and regulations.
Rank B
(Managed Substances)
Substances whose environmental impact should be reduced, based on actual usage, via reduction of use and substitution, or recovery and detoxification in a closed system.
*

Due to sector-specific conditions and other circumstances, details of the management of chemicals (substances managed, management levels, threshold values, etc.) may differ among Toshiba Group companies.
Examples of regulations on chemicals contained in products in different countries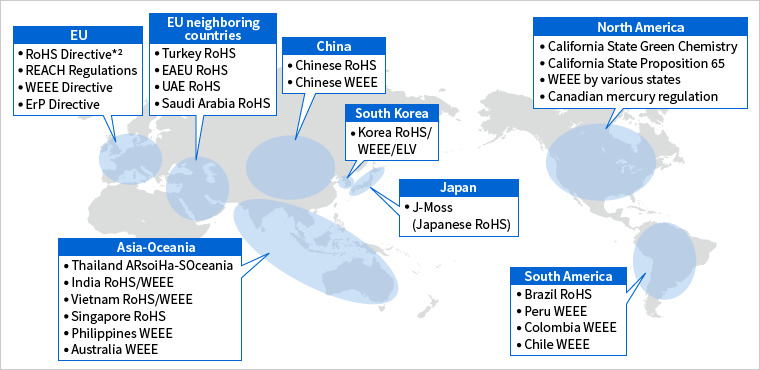 *1

WSSD: World Summit on Sustainable Development

*2

RoHS: The Restriction of the use of certain Hazardous Substances in electrical and electronic equipment
Promoting Substitution of the Four Phthalates*1
Toshiba Group promotes substitution of the four phthalates as part of our priority measures for managing chemicals contained in products.
Phthalates are used as a plasticizer for PVC and other plastics. They are widely used in electrical and electronic equipment as plasticizers for cords and internal wire cable coatings as well as for various types of packing. However, concerns have been raised over the reproductive toxicity of phthalates. Also, use of the four phthalates has been regulated for electrical and electronic equipment sold in the EU market since July 22, 2019 under the EU RoHS Directive. Due to their regulation in the EU, use of the four phthalates is becoming subject to regulation in various countries.
Toshiba Group defined the four phthalates as prohibited substances in the Toshiba Group Green Procurement Guidelines and is promoting substitution of materials containing phthalates with alternatives*2.
Also, we develop technology to promote substitution while maintaining product quality by evaluating alternative substances' reliability and developing methods to easily assess whether high polymer materials contain phthalates.
Our products for Europe have been updated to comply with the regulation that came into force on July 22, 2019 that restricts phthalates. We will continue to conduct thorough ongoing management of products subject to the EU RoHS Directive, and we will further substitute or take other actions for our energy and social infrastructure products as well.
*1

Bis (2-ethylhexyl) phthalate, butyl benzyl phthalate, di-n-butyl phthalate, and di-isobutyl phthalate. These substances are used mainly as plasticizers for plastics (e.g., cable coatings), and there are some concerns about their effects on the human body.

*2

We aim to complete identification of alternative materials for some products (product groups) for which RoHS regulation starts in 2021 as well as for products not regulated by the RoHS Directive.
Case : Promotion of international standardization of a simplified screening method for phthalates
Toshiba Corporation
Corporate Research & Development Center
Focusing on the four phthalates in products added by the RoHS Directive in EU in July 2019, we have developed the thin-layer chromatography (TLC) method as one of the screening methods for acceptance tests on procured items and quality control of production processes, and we have been applying that method within Toshiba Group.
Since the specifications required for the screening of the phthalates vary depending on the user, it is important to choose the method according to the purpose. Among some screening methods with distinctive characteristics, the TLC method has the advantages of low cost and simplicity. In response to the needs of the electric and electronic industry inside and outside of Japan to reduce the management cost of the phthalates, we are promoting the international standardization of the TLC method as a screening method option.
At IEC*1 TC111*2 WG3, the IEC62321 series international standards for testing certain substances in products have been developed. Currently, the group is also working to standardize screening methods for the phthalates. We proposed adding the TLC method to the standards, and as a result, they accepted to consider standardizing the TLC method along with other methods. We continue to work on making the TLC method a part of the IEC standards.
*1

The International Electrotechnical Commission

*2

The committee of expert engineers to formulate environmental standards for electrical and electronic devices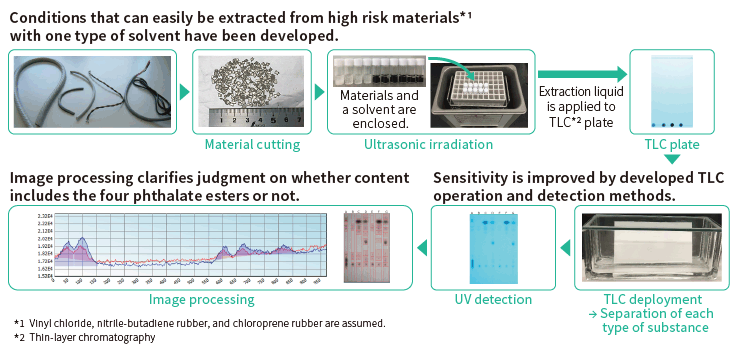 Toshiba Group Green Procurement Guidelines
It is essential to consider the environment throughout the entire supply chain to realize Toshiba Group's long term environmental vision `Environmental Future Vision 2050.` Working hand in hand with our suppliers globally, Toshiba Group gives high priority to promoting green procurement which aims to procure products, parts and components, materials and services, etc. with minimal environmental impacts from suppliers that proactively promote environmental management. The Guidelines present Toshiba Group's basic concept of green procurement and the specific content of our requests to suppliers.
Please download the PDF file from the following link to read Toshiba Group Green Procurement Guidelines.
Due to industry trends and other circumstances, the details of requests to suppliers may differ among Toshiba Group Companies or divisions, so please check the Green Procurement Guidelines issued by the office in charge of procurement of the relevant Toshiba Group Company, division, operations, complex, factory, etc.
For the Guidelines of Toshiba Group Companies or divisions, please see the link from below `Guidelines of Toshiba Group Companies and divisions.`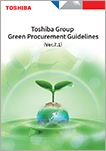 【Guidelines of Toshiba Group Companies and divisions】 (The update is under progress to reflect Toshiba Group Green Procurement Guidelines (Ver.7.1)).
Cases in FY2015
Case : POS system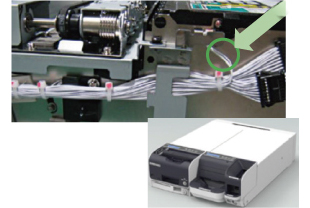 Toshiba TEC Corporation
POS systems make use of cable harnesses with assembled parts made from multiple electric wires (for power supply and signal communication) that have been bound together.
Toshiba TEC Corporation had been using PVC harnesses that were soft and provided a large degree of freedom in wiring. However, the company considered adopting PVC-free harnesses and is now using parts that do not contain PVC. Toshiba TEC will use this case study as an example to promote the use of PVC alternatives in other products.
Case : Elevator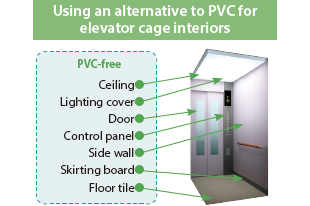 Toshiba Elevator and Building Systems Corporation
In manufacturing elevators, resin-coated decorative copper plates as well as lighting covers and tiles made of PVC were previously used to provide color variations and finishing touches to the interiors of elevator cages as well as to increase elevator durability. Toshiba Elevator and Building Systems Corporation evaluated the possibility of using PVC-free materials in such parts and adopted these materials to produce PVC-free elevators.
Case : Ventilator instruction label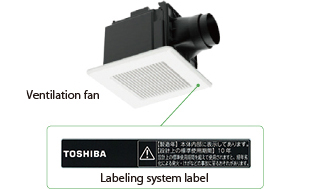 Toshiba Carrier Corporation
PVC had been used for many years to manufacture instruction labels for products (e.g., ventilation fans) that must be cleaned by customers with detergent. This is because PVC is known to protect printed letters from being washed off by detergent as well as to make it easy to use an adhesive that prevents labels from easily peeling off.
To find an alternative to PVC for instruction labels, the company tested different combinations of mounts, adhesives, and printing ink to examine detergent resistance and the difficulty of peeling off, eventually succeeding in commercializing a PVC-free label.