Vol.

34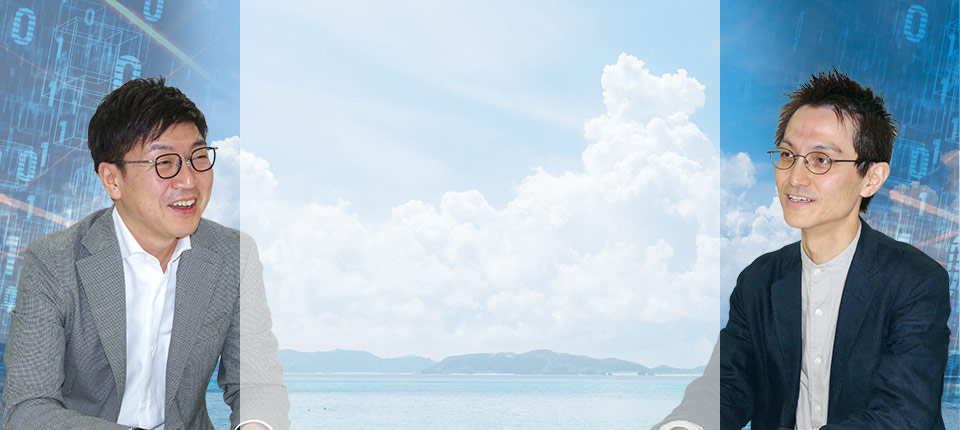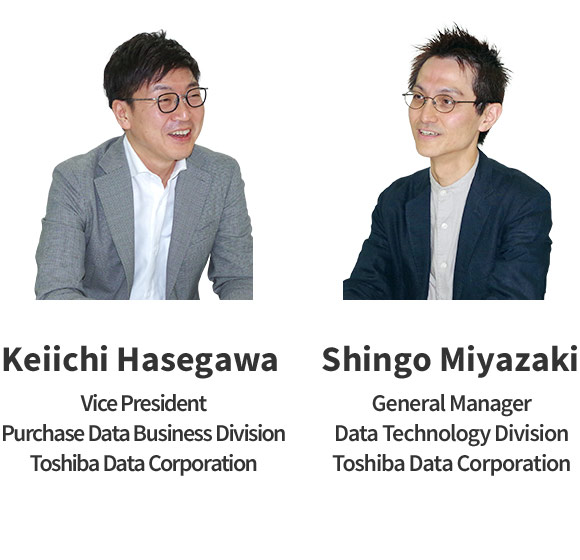 The Toshiba Group aims to become a world leader in Cyber-Physical System (CPS) technology. We are now developing our data service business, which creates new value by combining diverse data produced daily by a wide range of industrial fields. As part of these efforts, we have established Toshiba Data Corporation, a new company that links different kinds of data together. Based on the exceptional security technologies and expertise of the Toshiba Group, Toshiba Data uses advanced technology and analysis to create value out of consumer data collected from real life, such as purchasing data, and to provide this value back to society. Through this, it is working to build a data circulation ecosystem that creates a richer future. 'This article introduces Toshiba Data's business model and the value it provides.

What is a circulating ecosystem in which data is turned into value?
To realize data service businesses in the Toshiba Group, we strongly believed that a quick decision-making and a new business model, which is not unshackled by convention, are necessary. Therefore Toshiba Data Corporation was established in February 2020.
So what was this "circulating ecosystem" that Toshiba Data was trying to achieve?
Enterprises in the real world, such as retailers and manufacturers, obtain data about consumers with the permission of those consumers and store it in Toshiba Data's service system. Toshiba Data combines that diverse data in various ways to support enterprises in leveraging data. Enterprises use the data to carry out advanced marketing and advertising, as well as providing services that help revitalize communities. This enables consumers to take advantage of services that make life more convenient, pleasant, and economical. This system of combining data that is continuously being produced and turning it into value is a circulating ecosystem (Fig. 1).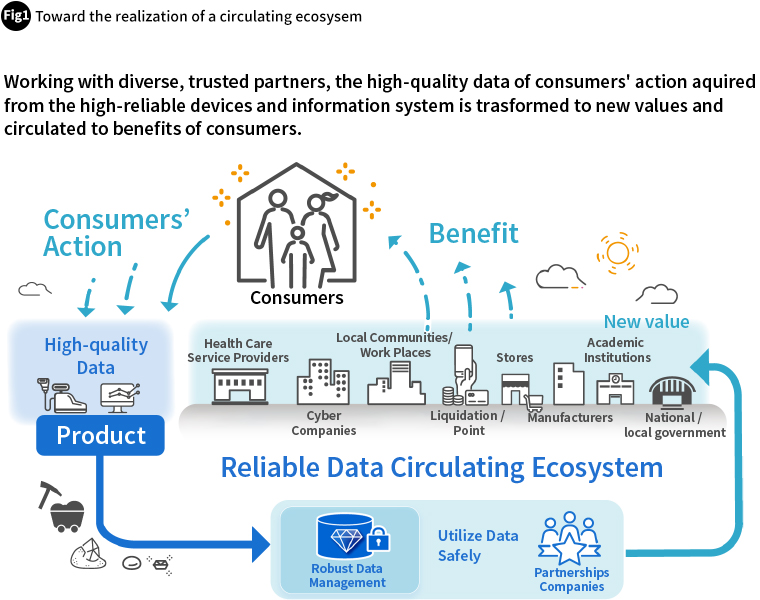 To expand its data service business scope, Toshiba Data is not providing proprietary services, but partnering with other Toshiba Group business companies and outside partners to create a data service ecosystem.
In order to make this ecosystem work, we are taking the lead in leveraging purchasing data acquired with the consent of consumers.
For example, it is considering measures that help reduce the risk of COVID-19 infection, such as analyzing congestion conditions at individual stores using past purchasing data and issuing coupons with specific validity dates and times to help evenly distribute customer store visits and alleviate congestion.
It is also looking into the potential for measures which use benefits of immediately analyzing and leveraging purchasing data to conduct sales promotions which provide product recommendations based on purchase rankings and hot-selling items in a timely fashion using digital signage or by sending the recommendations to consumers' smartphones.
Toshiba Data is also considering taking the next step of using health data and personnel data, further expanding the range of data that it utilizes.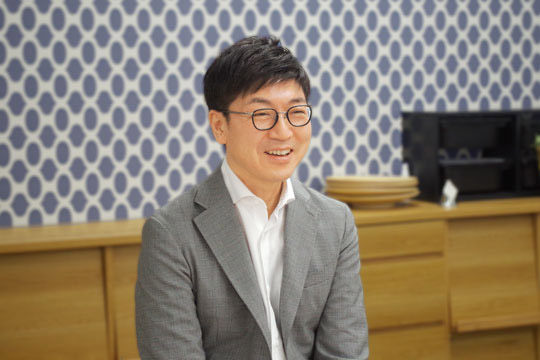 Keiichi Hasegawa Toshiba Data Corporation

Safely keeping consumer data and providing society with value
The data service system being created by Toshiba Data supplies the framework for keeping various data and providing society with value. A critical aspect of this is the creation of a system for safely keeping personal data -- invaluable records regarding individual consumers' lives -- and using it securely, without errors or misunderstandings.
Of course, this consumer data is obtained with the consent of the people to whom it pertains. However, it is important to create systems that enable consumers to understand in advance how their data will be used, and where, and to stipulate usage methods. Likewise, it is important that they be able to confirm the status of their data's utilization later and to delete their data easily when they wish. In other words, consumers require systems that enable them to provide their data with peace of mind. To do that, consumers themselves are given control over how the data they provide will be used.
Toshiba Data also prepared a way for consumer data to be relayed by enterprises to be safely kept by Toshiba Data. The received data is stored separately by data type. Different rules apply to each type of data -- the rules for purchasing data differ, for example, from the rules for health data, which in turn differ from those for personnel data. It is important that data be appropriately coordinated to ensure that it is distributed and stored safely, and that there are no contradictions between consumers' intentions and the handling rules that apply to each type of data. Value is created while carefully coordinating this data, and that value is fed back to consumers and society.
In creating this data service system that uses personal data to contribute to society, the Toshiba Group works closely with outside experts in each genre, engaging in deliberations with the aim of building a reliable data circulating ecosystem that every consumer can feel secure using.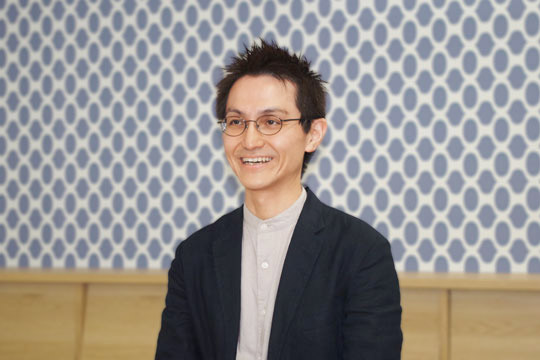 Shingo Miyazaki Toshiba Data Corporation

Using the purchasing data that is essential for Smartreceipts
What could be achieved with a system for shaping data into value and providing it back to society? One example is Smartreceipt*1

(Toshiba Tec), for which Toshiba Data provides operational support.
Smartreceipt is an electronic receipt service launched in 2014 by Toshiba TEC Corporation, a Toshiba Group company. When a consumer shops, an electronic receipt is sent to the consumer's smartphone instead of a paper receipt in cooperation with the POS system*2. The electronic receipt information is kept in the Smartreceipt center with the consent of the consumer, who can view the electronic receipt anywhere at any time (Fig. 2).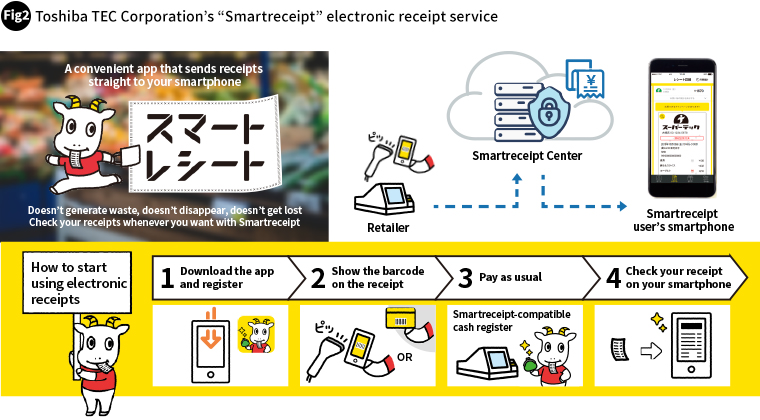 *
1:Smartreceipt is a registered trademark of Toshiba TEC Corporation
*
2:POS system: Point Of Sales system. POS systems handle purchase payments and issue receipts.
Smartreceipts offer "electronic receipt functions", which are convenient for consumers, and "sales promotion functions", which support the sales promotion efforts of stores and manufacturers.
Toshiba TEC conducted an attitude survey regarding receipts and designed the electronic receipt function to eliminate the problems associated with physical receipts, such as receipts taking up too much space in wallets, receipt printing being hard to read, and receipts becoming easily lost. This service also enables consumers to enjoy convenient services, such as easily keeping track of household budgets through the automatic creation of an household accounting ledger based on receipt data or automatically identifying and tabulating the amount spent on over-the-counter medication included in the medical expense exemption scope (under the self medication tax system in Japan).
Stores can link cashless payment with electronic receipts to dramatically reduce the time for checkout at the cash register and handle payment processing without physical contact.
The sales promotion functions make it easy for individual product manufacturers to display the participation symbol of the promotional campaign on electronic receipts, which simplifies the campaign entry process for consumers and has the potential to improve the awareness and participation rates of the campaign at little cost. The participation information of the campaign can not only be used to assess purchasing trends, but also to directly approach consumers and identify high value customers.
By collecting an even greater amount of data, Toshiba Data aims to further advance its high quality services, creating a "win-win-win" situation for consumers, stores, and manufacturers.

Producing tremendous results using purchasing data
There are also specific case examples of using Smartreceipt purchasing data. In Okinawa, over the seven month period from September 2018 to April 2019, 64 stores from nine local companies participated in a demonstration project called "The project to improve lifestyle convenience". This project, a first for Japan, sought to promote greater use of Smartreceipt and to go across industry and competitor lines to carry out sales promotion efforts by having participating establishments coordinate and mutually refer customers.
Unlike promotional campaigns carried out by single manufacturers or retailers, this campaign issued coupons that could be used at other establishments. For example, a consumer who bought something at one participating supermarket might be issued a coupon for use at a nearby drugstore. The project helped create an overall increase in the number of store visits. During the project period, the number of Smartreceipt users increased by roughly 7,000 people, the frequency of store visitation increased by one visit per month compared to pre-Smartreceipt levels, and sales revenue increased by 2,000 yen per month.
This test project, using purchasing data, showed that this approach was mutually beneficial, increasing average customer transaction amounts and store visits for stores while boosting sales for manufacturers.
In the future, Toshiba Data will also accelerate its efforts in Smart City Aizu, a regional revitalization project in Aizuwakamatsu City, Fukushima Prefecture. In order to participate in and support the Smart City framework, in Aizuwakamatsu City's Smart City AiCT, Toshiba Data has established a development site aimed at enhancing support for state of the art technology demonstration projects and societal implementation. By linking a community currency with Smartreceipt, it plans analyze purchasing data in real time and provide product recommendations in order to make tourists and locals aware of attractive local products, thereby supporting regional revitalization. Purchasing data acquired via Smartreceipt will be converted into added value and provided to local residents, companies, and enterprises with the aim of generating exceptional synergy.
As with the example of leveraging Smartreceipt purchasing data, we expect integration with Toshiba Data's data service systems to create even greater value from data and provide that data back to society. We will continue to flexibly adapt to the changing world through our data service business while building an ecosystem that earns the trust of all.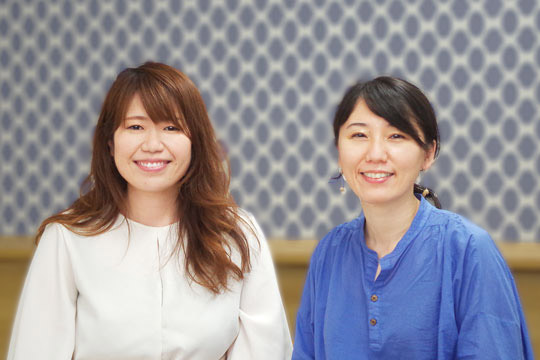 Toshiba Data employees who promote the data service business.From the left, Kaori Kurata in charge of promotion and Yoshiko Teraoka in charge of design.
※

The corporate names, organization names, job titles and other names and titles appearing in this article are those as of August 2020.
Related articles
Vol.
34
"Developing the Data Service Businesses with the new innovation"

Following links will open in a new window