Robots are starting to make appearances in presentations and in product explanations at stores. A new society, in which people and robots combine their strengths, has come closer. Kibiro, a robot from FRONTEO Communications, Inc. with artificial intelligence (AI), uses Toshiba Digital Solutions' "RECAIUS" speech recognition and text-to-speech technologies. Kibiro, whose listening and speaking capabilities have been greatly improved with RECAIUS, is drawing attention as a robot that appeals to people – a suitable partner for the future society. Let's look at the world that will be made possible by communication between people and robots, through the example of co-creation between AI robots and RECAIUS.
Futuristic AI robot, "Kibiro"
Robots, which in the past were fanciful creations in movies, novels, and comics, are becoming a part of real lives and work. For many years, robots were primarily industrial robots, used in factories for production. They have substituted for human workers, performing work which was dangerous or required a great deal of speed or accuracy. They have played an important role, contributing to greater production efficiency, reducing product costs, and improving quality.
A great deal of work is now going into robot technologies aimed at work with people and helping people. There are great expectations for applications which involve interaction with human, such as customer service, medical care and nursing, and agriculture; in creating innovation as smart home devices; and in solving the various challenges faced by aging societies.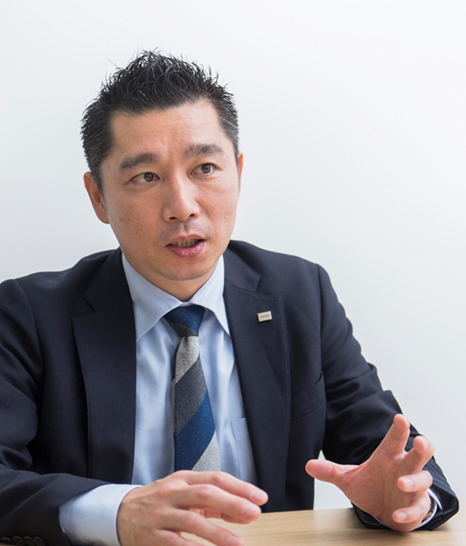 Technologies for communication between people and robots hold the key to achieving the advances needed to turn the future into reality. A new society in which people and robots live together will require communication systems which listen to people, identify what people are feeling, and immediately respond in a natural way – communication systems which create a sense of affinity and familiarity, like talking to a family member, friend, or colleague, and with which people can form emotional connections.
The FRONTEO Group has produced numerous innovations in the AI and digital communication fields, and was quick to focus on the unlimited potential of robots. Led by the concept of "making every day richer by becoming part of peoples' life," in 2015 the group announced that it had started developing Kibiro, the company's first AI-equipped robot. This innovative robot used internal speakers and a microphone to capture speech, analyze this data in the cloud, and engage in dialog that matched the tastes and interests of the person it was talking to.
Kibiro's full-scale launch was in 2016, and its native communication abilities, cute looks, and endearing movements earned high praise. The robot is being used in homes, offices, shopping areas, and more.
Click here to move to the top of this page.
RECAIUS technologies strike a balance between performance and cost
Though Kibiro was an early, pioneering communication robot, FRONTEO Communications faced a challenge; Along with the company wanted to expand its market by considering market needs, requirements for multilingual capabilities were becoming higher than ever.
Toshiba Digital Solutions encountered Kibiro at an event in November 2016, and realized its potential. When we understood the challenges FRONTEO was facing, we introduced "RECAIUS". RECAIUS offers a diverse range of services based on top industry media intelligence technologies. We provided FRONTEO with the RECAIUS speech recognition service and RECAIUS text-to-speech middleware ToSpeak, using a flexible license fee structure. By integrating these two technologies with FRONTEO's AI technologies, Kibiro's communication quality improved further while implementation and running cost were optimized (Fig. 1).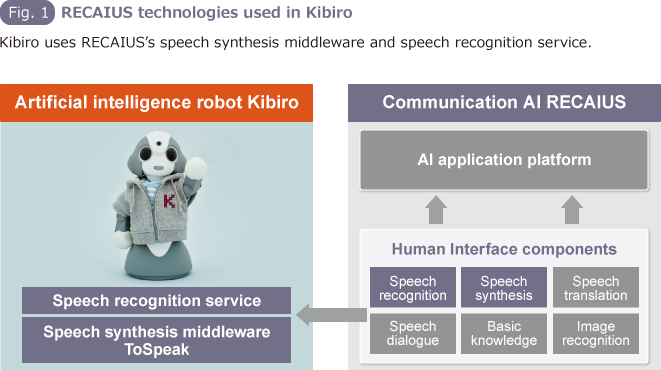 The company benchmarked the RECAIUS service quality and its middleware performance. The RECAUIS speech recognition service excels at understanding natural spoken language, and its dictionary can be easily tuned. It demonstrated these strengths in full, resulted in a very high evaluation. The RECAIUS text-to-speech middleware ToSpeak provides expressive, natural, human-sounding speech and high sound quality, while requiring little memory. This technology has been firstly developed for car navigation systems, once achieved more than 80% market share, and then applied for smartphone and tablet device application software. These extensive track record and technical advantages convinced FRONTEO Communications to decide the company to use RECAIUS in the Kibiro.
Click here to move to the top of this page.
Robots and RECAIUS collaboration brings new value to industry and society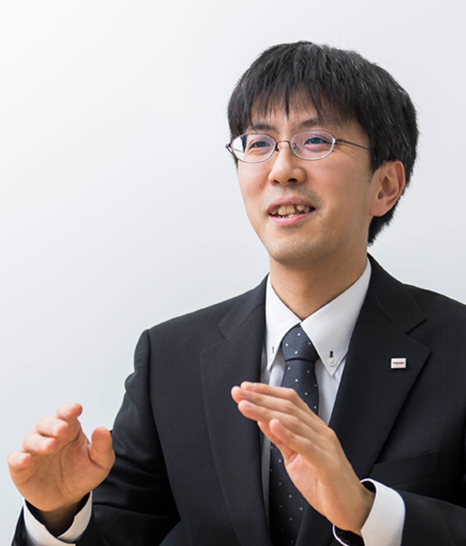 The news that the RECAIUS was to be used firstly in a commercial robot aroused a great enthusiasm, both inside and outside the company. Kibiro, with RECAIUS's speech recognition and text-to-speech technologies, will further evolve with FRONTEO's AI technologies into a more natural, familiar, human, and caring robot. It will listen to people, think about what people have said, and smartly respond while taking the people into consideration, tuning its tone as appropriate for the time, place, and occasion. Expectations are high for Kibiro as a robot that people will form an emotional bond with, creating friendliness. In fields where communication is important, including customer service, nursing, and education, a progress has already made with Kibiro.
However, the use of RECAIUS in Kibiro is just the first step to open up a whole new world.
We share a vision of co-creation to develop and realize further potential robot application with Kibiro. We will integrate Kibiro for systems which the Toshiba Group is leveraging its strengths, such as finance and distribution, government, social infrastructure, and energy. For example, a Kibiro connected to a home energy management system (HEMS) could announce in a cute voice, "Okay, I'm going to turn the air conditioner down now," and then adjust the temperature. Just imagining this scene in a smart home gives people a warm smile. The connection between the Toshiba Group's technologies and Kibiro will clearly introduce the convenience and comfort, and serve as a major driving force in creating a richer society.
Toshiba Digital Solutions will focus on co-creation with partners. Robots, fused with the RECAIUS and other Toshiba technologies, will be creating new value in diverse industrial and social fields.
* The corporate names, organization names, job titles and other names and titles appearing in this article are those as of November 2017.
Related articles

Vol.23

Communication AI for knowledge processing with speech and image data The business innovation produced by collaboration between people and AI