Collaboration with system integrators and integration with cloud platforms will be essential for the widespread use of "RECAIUS", Toshiba's communication AI.
The first of these efforts is collaboration between Toshiba Digital Solutions and Salesforce, Inc., a customer relationship management (CRM) platform provider whose products are used throughout the world. Together, we have launched RECAIUS Connect, a cloud-based app service that makes it easy to use RECAIUS services such as speech recognition.
Needs for speech recognition and artificial intelligence (AI) in the marketing and customer engagement field are growing.
Let's look at the app services of collaboration AI integrated with Salesforce and made possible by RECAIUS Connect.
Integration between RECAIUS Field Voice and Salesforce
RECAIUS uses speech and language processing technologies to assist people in their person-to-person and person-to-thing communications. Toshiba Digital Solutions is continually refining RECAIUS to utilize its advanced media intelligence technologies – technologies which use speech recognition to read speakers feelings and intentions, and to provide corresponding knowledge through language and speech – in wide range of situations. We have been providing various functions, such as speech recognition and text to speech, in service form, and have begun collaborating with domestic and international platform providers and system integrators to bring these functions to an even greater number of people. We plan to provide more diverse range of new communication formats that meet today's business and lifestyle needs, such as providing various business supports and enhancing peoples' capabilities.
We start with RECAIUS Connect, developed through collaboration with Salesforce and provided via AppExchange, a global business application marketplace. With RECAIUS Connect, users will first be able to integrate RECAIUS Field Voice, one of many RECAIUS functions, with the Salesforce app service, and make free use of it.
RECAIUS Field Voice, which brings together the advanced speech recognition technologies we have developed, understands the content and intent of words spoken to it in the field via smartphones or earphone mics. This information can be sorted automatically, making it possible to register information in an application just by speaking naturally (Fig. 1). The functions of RECAIUS Field Voice, which have been well-received in a wide range of worksites and fields for operational efficiency improvement such as maintenance inspections and security are now be ready to use via Salesforce apps.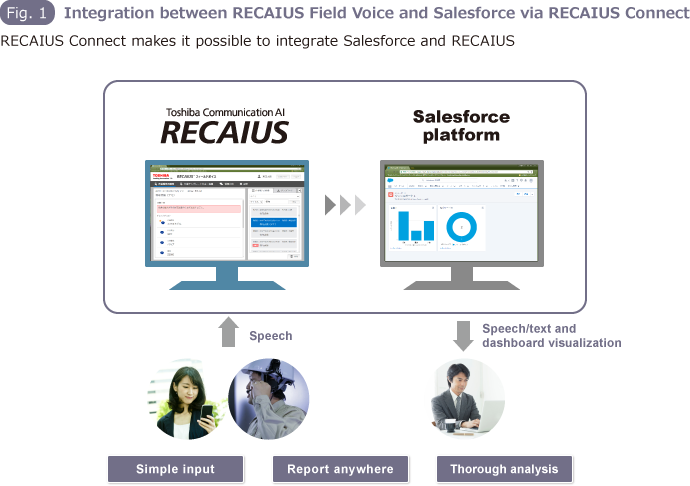 Click here to move to the top of this page.
Widespread use of RECAIUS on the business frontlines to solve the challenges in the field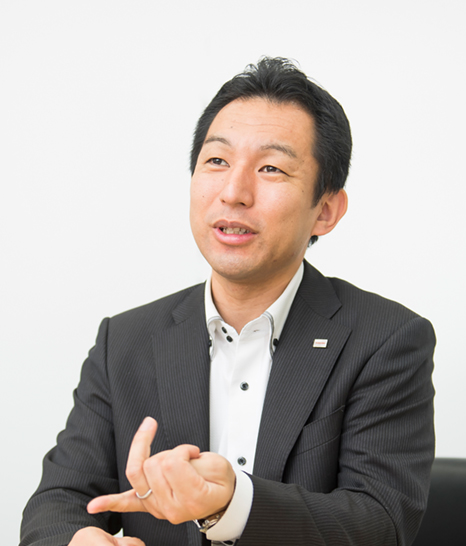 The integration between Salesforce and RECAIUS Field Voice was prompted by callenges CRM user companies face. CRM systems, which support the sales and marketing activities of various businesses, provide true value only when they gather needed information from the field about customers and markets in a timely fashion and systematically organize that information. However, conventional methods of gathering information through manual input through smartphones, tablet devices, and computers are time-consuming and frequently result in missing information. Customers have wanted an easier information entering method at busy sales points and sharing it universally. RECAIUS Field Voice's functions for collecting speech in real-time by simply speaking, and organizing and smoothly sharing it, was a perfect match for such needs.
For Toshiba, collaboration with Salesforce, a global CRM leader at the forefront of corporate sales and marketing, would provide an opportunity for even more people to experience the advanced media intelligence technologies Toshiba has developed through the years. RECAIUS's benefits would become widely known on the business frontlines. As a company seeking to establish business based on the leveraging of AI in communication between people and people, and between people and things, this would be a giant step towards our further success.
Click here to move to the top of this page.
Further expansion of collaboration with platform providers
The benefits of RECAIUS Field Voice, which enables speech input to Salesforce app services via RECAIUS Connect, have been experienced by a number of users, such as Jinya, a traditional hot spring inn in Tokyo area. RECAIUS automatically categorizes and records information entered via speech input, and the information is visualized through Salesforce graphs, resulting in greater merit of information use in the field. Simply entering information, such as which products and services have been recommended to which customers, how customers reacted, and how likely they are to place orders, by speaking into a smartphone or tablet device, makes it possible to share all sales activity and post-sales negotiation information throughout the entire company or organization and leverage timely information in sales and marketing situations.
Toshiba plans further expantion of integration between Salesforce apps and RECAIUS services including text-to-speech playback, document searching, and translation. RECAIUS Connect will be expanded into a solution which makes it possible to take advantage of all the potential Salesforce has to offer.
Pioneered by this integration between Salesforce apps and RECAIUS in the CRM field, our communication AI business will engage in further collaborations with leading global platform providers, creating innovation in our digital world, and supporting people and society (Fig. 2).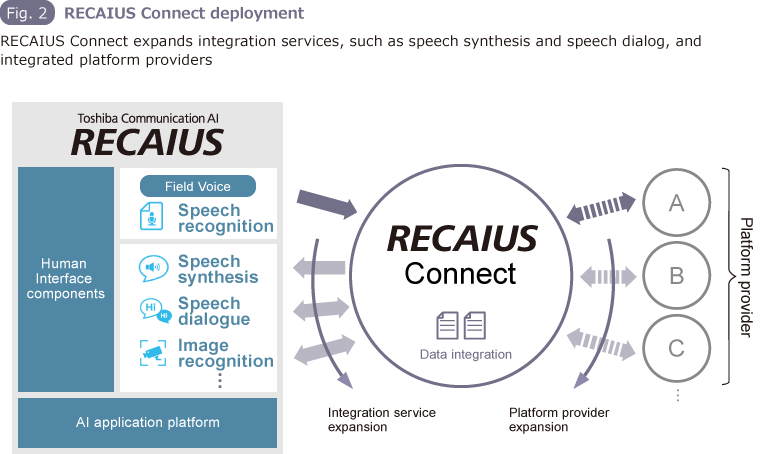 * The corporate names, organization names, job titles and other names and titles appearing in this article are those as of November 2017.
Related articles

Vol.23

Communication AI for knowledge processing with speech and image data The business innovation produced by collaboration between people and AI