Toshiba's Speech Synthesis Middleware "ToSpeak™" Adopted as the New Japanese Speech Engine for Sourcenext's Poketalk® W, an AI-powered Voice Translation Device
December 27, 2018
Toshiba Digital Solutions Corporation
KAWASAKI, Japan—Toshiba Digital Solutions Corporation's ToSpeak™ RECAIUS speech synthesis middleware has been adopted for use in Sourcenext Corporation's Pocketalk® W, an AI-powered voice translation device, as its new Japanese speech engine. Sourcenext will begin distributing the update starting today, December 27, 2018.
ToSpeak™ is a software library product for embedded devices that provides text to speech synthesis. It enables the synthesis of very natural sounding speech, instead of machine-like speech, which was the reason for the adoption of the middleware in Pocketalk® W.
Going forward, Toshiba Digital Solutions will continue to strengthen the function of the RECAIUS speech synthesis middleware, ToSpeak™ and support its application in various business circumstances.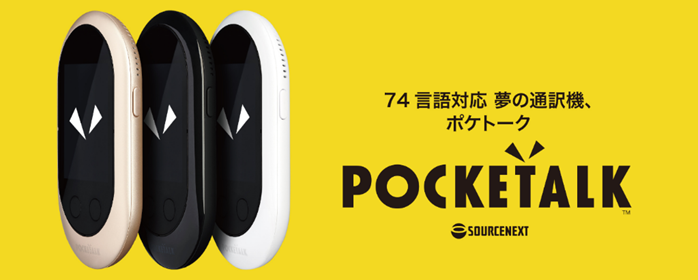 Sourcenext Corporation's press release on this matter can be found at the following (in Japanese only)
About Sourcenext Corporation's AI-powered voice translator, Pocketalk® W
Pocketalk® W is a palm-size, AI-powered voice translator that supports 74 languages. It allows users to converse with people who speak other languages, almost as if there was an interpreter present. With a large 2.4-inch touch-screen, the voice translator has a built-in, 4G capable global SIM card and can be used immediately in 109 countries and territories around the world without any bothersome setup. The 74 supported languages also include regional accents, such as Australian and Indian English.
Product news release: https://sourcenext.co.jp/pressrelease_html/JS/2018/2018072601
Product details: https://pocketalk.jp/
About Toshiba Digital Solutions' RECAIUS speech synthesis middleware, ToSpeak™
RECAIUS speech synthesis middleware ToSpeak™ is a software library product developed and sold by Toshiba Digital Solutions Corporation. Its characteristic feature is an original feature parameter that enables precise speech expression and parameter generation based on statistical learning. They allow the synthesis of natural-sounding speech. By incorporating the middleware into devices and applications that require voice communication or public announcements, various information can be relayed using a natural, human-sounding voice.
Product details: https://www.global.toshiba/jp/products-solutions/ai-iot/recaius/lineup/tospeak.html (in Japanese only)
About Toshiba's RECAIUS™ communication AI
RECAIUS™ is a service that supports the making of human activity-related decisions that are appropriate to circumstances. It does so by efficiently gathering knowledge from sites of human activity. It invigorates communication between humans and systems by integrating natural language processing technology and knowledge processing technology. RECAIUS™ aims to realize a mechanism that will allow everyone to execute their operations in comfort, achieve an efficient working style and enjoy a pleasant lifestyle.
RECAIUS website: https://www.toshiba.co.jp/recaius/ (in Japanese only)
* Pocketalk W: ©Sourcenext Corporation
* RECAIUS™ and ToSpeak™ are registered trademarks or trademarks of Toshiba Digital Solutions Corporation in Japan and other countries.
* Other company names and product names in this document may be trademarks or registered trademarks of the respective companies.