Entering into an age of 4th industrial revolution, the movement to promote the innovation by using digital technologies such as IoT and AI is expanding in various industrial fields. Especially, the movement in Japan's specialty, the manufacturing industry is very quick and the approach to visualization of manufacturing process and preventive maintenance utilizing IoT has been started. However, most of these movements remain as an extension of existing business, that mean manufacturing and selling a lot of products and the optimization, so the movements are just executed partially. Currently, the movements have not reached the cooperation of data beyond process, site, and company, or the traceability in value chain of manufacturing. To overcome this current situation, Toshiba Digital Solutions released IoT service for manufacturers "Meister Cloud series" as "TOSHIBA SPINEX for Manufacturing" in December 2019 to optimize the entire value chain. By schematizing the knowledge of TOSHIBA's manufacturing and the latest technology, Toshiba Digital Solutions supports the realization of digital transformation (DX) of manufacturing with easily introducible cloud service support the realization of digital transformation (DX) of manufacturing. Here are the points of Meister Cloud series with introduction examples.
"Manufacturing IoT solution" with rich actual achievements becomes the cloud service
Toshiba Digital Solutions advocates the "digital transformation (DX) for manufacturing" based on the cyber physical systems (CPS). Toshiba Digital Solutions is providing the solution that optimizes entire value chain of manufacturing by realizing "connected factories" and "non-stop factories" under consecutive lifecycle management of products going through manufacturing (phase of manufacturing) to O&M* (phase of usage).
*O&M: Operation & Maintenance
The core of the solutions is the manufacturing IoT solution "Meister Factory series". Meister Factory series mutually aligns various processes, such as product design / development, manufacturing, logistics, and sales / service and utilizes various data collected from manufacturing field and usage field. Meister Factory series realizes higher productivity and quality and supports creation of new products and services. Meister Factory series has been used by a lot of companies since its launch.
Toshiba Digital Solutions' Iot services for the manufacturing, named "Meister Cloud series" introduced hereof is a cloud service of the Meister Factory series. Meister Cloud series supports customer's business from both "manufacturing" and "O&M" with manufacturing IoT cloud service "Meister ManufactX" that supports factories and plants and asset IoT cloud service for equipment manufacturers "Meister RemoteX" that supports equipment manufacturers. The cloud service enables reduction of the initial cost of digitalization and quick start of use, and it realize the foundation of next-generation manufacturing with CPS (Fig.1).
Meister Cloud series gives factories and plants the improvement of productivity, and it gives equipment manufacturers the stabilization of revenue. Toshiba Digital Solutions aim to create mutual benefits for each customer in the value chain of manufacturing.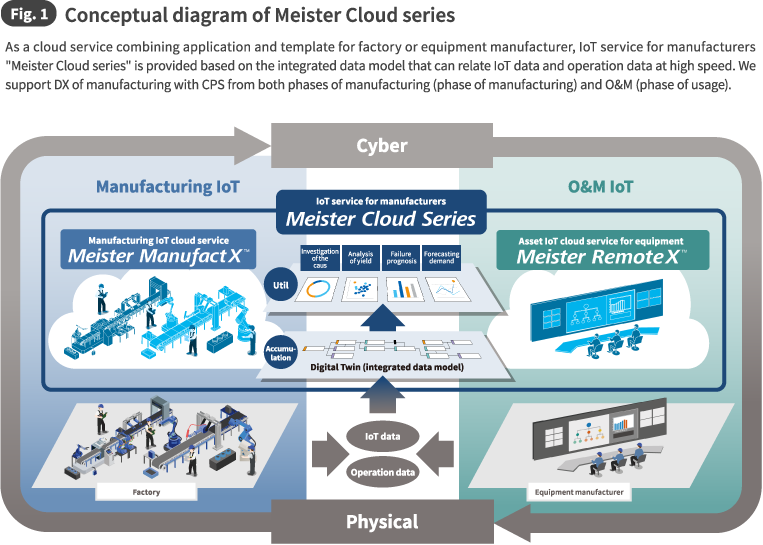 Click here to move to the top of this page.
Supporting manufacturing / O&M with TOSHIBA's integrated data model
Meister Cloud series comply with the common framework "TOSHIBA IoT Reference Architecture (hereafter, TIRA)" that supports quick development and operation of TOSHIBA's IoT services. TIRA mounts various know-how and production technologies that TOSHIBA has accumulated as a manufacturing company for a long time and advanced knowledge and various component technologies related to IoT and AI that Toshiba Digital Solutions has cultivated on three layers; "Edge", "Platform", "Enterprise Service". TIRA has advanced reliability complying with global standard of reference architecture and open API* that can easily take out data. Therefore it has a merit that it can be openly and securely cooperate with various players' applications and various business systems positioned on the layer of Enterprise Service.
* API: Application Programming Interface
* TIRA is introduced in #01 and #02 in details.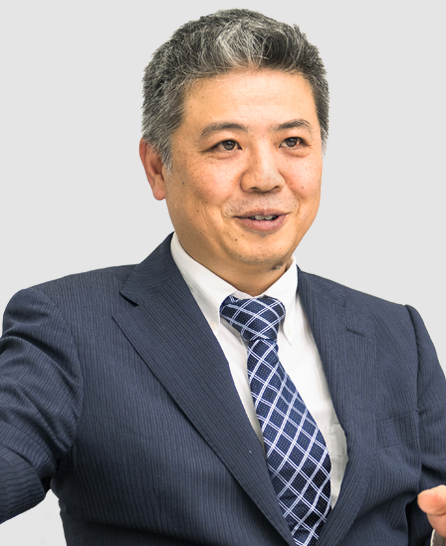 IoT service complying with TIRA has been already provided as one of the lineups of "TOSHIBA SPINEX" for which TOSHIBA guarantees reliability, expandability, and quality. Meister Cloud series serves in the manufacturing field as "TOSHIBA SPINEX for Manufacturing".
The greatest feature of Meister Cloud series is the provision of Digital Twin with integrated data model. Digital Twin that reproduces an event on physical space (real world) such as product manufacturing field or use field on cyber space (virtual space) can exercise the value by freely utilizing the data that is daily generated everywhere in value chain of manufacturing.
Various information related to manufacturing and O&M can be linked and be accumulated in chronological order to the integrated data model that utilizes knowhow and rich experiences of operation management of TOSHIBA who has its own factories to supply devices and has continuously watched the stable operation of equipment. And the simulations with Digital Twin such as analysis, reproduction, and forecast of various events can be implemented by combining IoT data such as operational status and environmental conditions of equipment with operation data such as materials, workers, procurement plan, customer information, and maintenance history.
Moreover, traceability crossing into value chain and seamless data sharing between factories and equipment manufacturers are also enabled. Customers can implement visualization of product lifecycle, high-accuracy analysis, and simulation without taking large amounts of man-hour for association of data and processing. The continuous improvement of manufacturing field by timely data utilization leads to the optimization of entire value chain of manufacturing.
Next, here are the characteristics of Meister Cloud series, Meister ManufactX, and Meister RemoteX separately with introduction example.
Click here to move to the top of this page.
"Meister ManufactX" that accelerates the digitalization of manufacturing
The manufacturing IoT cloud service "Meister ManufactX" is a service for owners of factories and plants that supports the resolution of problems such as a sudden response related to failure of equipment and quality problem and securement of human resources who implement monitoring and management of various products in the plant.
Various data related to products are automatically linked and managed based on the concept of 5W1H to lead them to effective data utilization. Various application and analysis tools can be combined and utilized according to customer's objectives.
A big merit is that the traceability of products passing through the manufacturing process can be implemented speedily with low cost. If a trouble is occurred in a market, when, where, and how the product was manufactured can be checked using production number and lot number as keys. Early response will be able by identifying the range of influence such as products which cause similar phenomenon. Moreover, the change point of situation at the manufacturing field is visible in the axis of 5M1E (Man, Method, Measurement, Material, Machine, Environment) which is basic of the quality control. When stop of equipment or product failure etc. is generated, the clue to resolve the problem is quickly find out to lead it to quick improvement.
Three services are prepared for the introduction of Meister ManufactX. "Trial edition" which is optimum for small start, "Standard edition" which supports the improvement through single process or line, and "Advanced edition" which supports up to optimization of entire factory. DX can be developed smoothly by expanding the scope of application flexibly according to customer's business scale and situation.
Here introduces some case studies.
First, an electronic parts manufacturer A who had the silo-like manufacturing system had taken an immense amount of time to investigate the cause of claim. After building the integrated data platform by utilizing Meister ManufactX, They can collectively extract the data related to the claim in a short time and can quickly identify the cause and take countermeasures due to cooperation with analysis tool (Fig.2).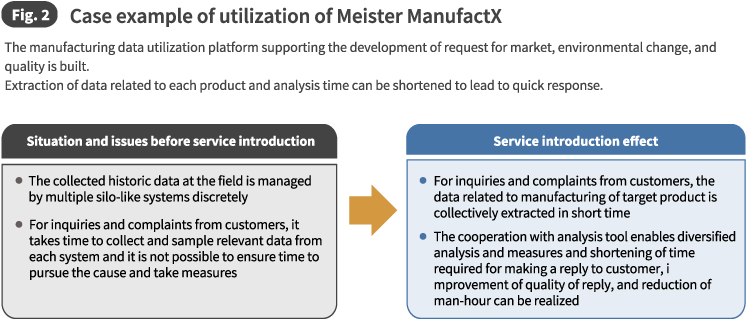 Second, the electronic parts manufacturer B who has managed the data for each system has realized the integrated management of various data related to manufacturing by utilizing Meister ManufactX.
It has been able to simplify the identification of bottleneck process in the manufacturing line and promote the improvement activity that had been focused on furthermore.
Click here to move to the top of this page.
"Meister RemoteX" aiming at value creation with digitalization of O&M
The asset IoT cloud service for equipment manufacturers "Meister RemoteX" is a service to be provided for equipment manufacturers bothering over increase of maintenance cost, aging and shortfall in human resources of maintenance staff, and unstable incoming orders.
The equipment operation data at various places in the world is collected and accumulated based on knowledge obtained by TOSHIBA group who has implemented remote monitoring and maintenance of industrial devices and social infrastructure for a long time. Standardly included dashboard visualizes the data from viewpoints of various sensors, equipment, and processes and expands the possibility of data utilization by cooperating it with analysis tool which has been used by customers or BI* tool suitable for the objectives.
*BI: Business Intelligence
With this, customers can optimize the allocation of maintenance staff and inventory to improve the efficiency of after-sales support operation furthermore. It also creates new businesses utilizing value of data at maximum such as provision of O&M service based on conditions providing replacement and maintenance of parts and consumable parts to customers (users of equipment) in proper timing or failure prognosis service.
The water processing equipment manufacturer C who works for business of devices / chemical products related to industrial water processing has built the global monitoring platform by utilizing Meister RemoteX. They became able to recognize the trend of water quality and situation of water processing from 29 countries in the world. And they has realized the high-quality service for filling optimum amount of chemical product in an optimum timing. Moreover, comprehensive report of water quality is provided to customers (facility managers) daily and monthly via a portal site. The improvement of quality of water processing by sharing data is supported from various phases (Fig.3).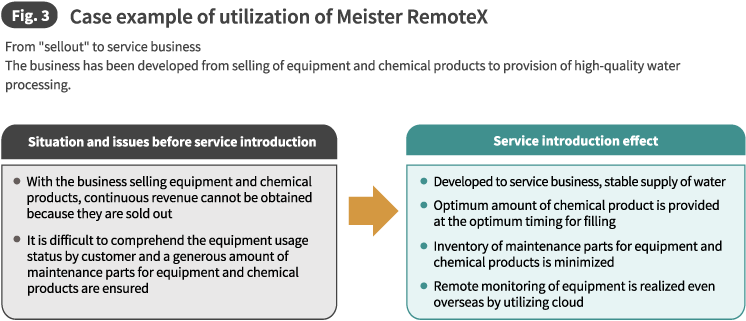 "TOSHIBA SPINEX for Manufacturing" aiming at digital transformation of manufacturing. Additional services such as various templates of visualization and analysis engines will be lined up in series.
Toshiba Digital Solutions will expand the manufacturing foundation for next generation in global scale by providing the user-friendly services to owners of factories, plants, and equipment manufacturers.
* The corporate names, organization names, job titles and other names and titles appearing in this article are those as of February 2020.
Related articles

Vol.32

Business transformation and value creation with TOSHIBA SPINEX Accelerating the development and deployment of industrial IoT services