Attention is increasingly being turned to System of Engagement (SoE) initiatives for realizing digital transformation (DX). However, the industrial field requires that SoE be integrated with enterprise systems, also known as Systems of Record (SoR), and that they support the accurate and reliable linking of diverse businesses, services, and large amounts of data. SoR expertise is vital to achieving this. Toshiba Digital Solutions is further refining its wealth of industrial field technologies and know-how in preparation for the coming age of DX. In this issue, we introduce our achievement of SI project management and our unique knowledge, which create even greater value in this time of great change, through case studies of the creation of large-scale enterprise systems.
Rediscovering the importance of project management
There is an accelerating trend towards SoE which creates new value and transforms business using insights and knowledge derived from data, as opposed to SoR which are focused on reducing costs and improving operation efficiency. As new technologies and business models are constantly created and innovation spreads into various areas, there is an urgent need for SoE-enabled personnel and project management.
However, SoR will continue to remain vital. One of our critical missions remains provide enterprise systems that offer safety, security, and reliability as they support diverse industries and corporate activities. In the age of DX, as well, project management, an area in which we have a long experience through our SoR work, will continue to rise in importance.
Bimodal IT skillfully integrates the data constantly being produced by new systems that leverage technologies such as the Internet of Things (IoT) and Artificial Intelligence (AI) with data stored in existing systems such as enterprise systems. SoR knowledge and know-how is essential to achieving this bimodal IT.
Click here to move to the top of this page.
The Solutions Center's project management strengths
The Solutions Center, Toshiba Digital Solutions' software development center, has built various systems for customers in a wide range of business sectors, and has refined its expertise regarding the successful completion of high-difficulty projects. It has an extensive experience of completing difficult large-scale IT systems for customers that other companies have struggled with. Our Solution Center's ability to successfully implement these projects has earned it the trust of numerous customers, becoming a tremendous asset to our company.
The Solutions Center is particularly focused on two aspects of project management. The first is that when it proposes project plans, it thoroughly identifies all areas of uncertainty that have an impact on the project's success, based on an accurate understanding of the projects characteristics. It defines tasks for addressing these risks and makes these tasks part of the project plan. All projects have risks, and the larger a system is, the more important thorough risk management is to not only achieving high quality, but also improving project productivity.
The second aspect The Solutions Center focuses on always optimally allocating members within all areas of project execution, and constantly implementing short Plan-Do-Check-Action (PDCA)* cycles. Through this, it seeks to continuously achieve high productivity and high quality.
Below, we present two typical examples of difficult projects which were successfully completed by carrying them out while taking these two perspectives into deep consideration.
Click here to move to the top of this page.
Case study 1: Rebuilding of a master data management system for a consumer goods manufacturer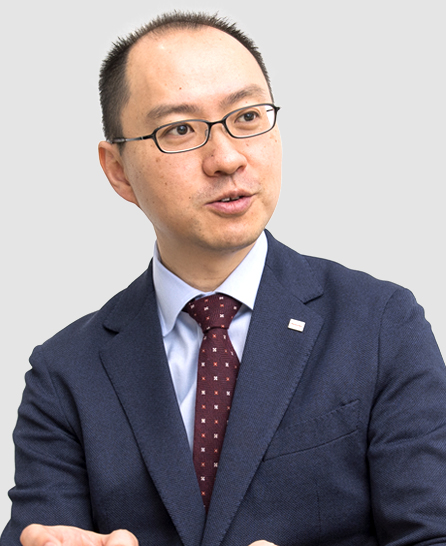 This project, which was carried out over roughly three years long and included 50 members at its peak, began with taking over the basic design of the system from another company, which had built the existing system. Specification formulation delays and changes to plan contents had already pushed both the amount of time left until migration to the new system and the budget for new system construction to their limits.
The existing system was also characterized that there was a large number of interfaces to external systems, and we determined that the basic design that we had taken over needed to be reviewed and revised from a user perspective. We needed to carry out project management that took into consideration various problems and quality risks in order to swiftly switch over to the new system while ensuring that the customer could continue to stably carry out their regular operations – and it all needed to be done within the budget and time limitations.
To achieve this, we formulated a plan with a six month migration period during which both the existing and new systems would be operated in parallel, and which would involve successively switching over to the new system using external system linking functions which were guaranteed to be consistent with the interfaces of the existing system. Furthermore, we clarified the division of tasks and responsibilities between ourselves and the maintenance vendor for the existing system, as well as thoroughly managing risks and the status of system changes. Through this, we aimed to minimize the impact of possible problems and complete the project according to plan.
We also dedicated efforts to ensuring close communications between customers' information system divisions and the user divisions that actually manage and use product master data. We reflected the opinions and information we obtained in day-to-day improvement activities aimed at achieving high levels of usability. We could successfully finish, according to our initial schedule, to develop the high quality system which could smoothly manage the master data over 50,000 items related with all customer operations and systems, from research & development to product planning, quality management, manufacturing, sales and logistics. This project was such an extremely difficult one that it was even apparent even to the customer, but we completed it according to plan. This led to it being highly evaluated by the customer as one of the year's most exceptional projects.
Click here to move to the top of this page.
Case study 2: Publishing company sales and logistics system migration project
This project was the migration from VB5 to VB.NET of the enterprise system which was originally develop in 2000 by our company. It was originally intended to be rebuilt but by the customer's information system subsidiaries, but they was unable to complete the project. The existing system had numerous screen functions, and its migration was a large scale of project. Another factor which significantly increased the difficulty of the migration project is that the system involved coordination between multiple subsystems, there had been various modifications and function improvements to the existing system, and some subsystems had been rebuilt by another company. The project therefore involved multiple simultaneous development projects with varying release timing.
We started by creating a migration plan which defined methods for investigating the existing system and migration methods. We performed a preliminary partial test migration and evaluated productivity to investigate the feasibility of the plans for each project stage, and gained an understanding of the system's features and characteristics. Furthermore, we prepared development standards, such as development references and guides, and provided them to project members to improve the efficiency and quality of migration work.
In the full-fledged migration, which we began after the preliminary migration, all stages, from programming processes to unit testing and integration testing, were carried out in parallel for individual functions. The countermeasures for the defects identified in testing were reflected as know-how in the development standards, shared between development members, and fed back to the programming processes when appropriate. This minimized the number of problems which occurred in unit testing and integration testing and improved productivity by over 20% (Fig. 1).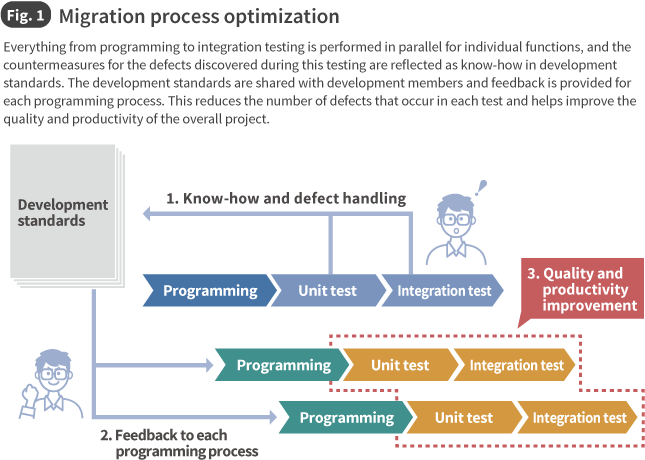 Furthermore, in the on-site system testing we switched the development teams and testing teams for each sub-system, rapidly identifying quality-related issues and efficiently correcting quality disparities between subsystems. In our performance improvements, we identified the optimal balance between quality and cost from the perspective of the customers that used the system and assigned priorities, including the need for measures or countermeasures. Through the steady implementation of these activities, we successfully completed the massive migration, which was considered extremely difficult, on time. Our technical and project promotion strengths, thanks to which we were able to complete the project while maintaining both a high level of productivity and quality, were highly evaluated by the customer, and became the foundation for the strong partnership we now enjoy with the customer.
The experience and expertise we developed were reflected in our development standards and used in numerous subsequent migration projects.
The Solutions Center has a great deal of experience with the creation of difficult, large-scale enterprise systems. These dependable strengths serve as the foundation that enables us to successfully complete projects, even in our modern age of dramatically changing system construction approaches and methodologies. We will continue to carry out training, using the techniques and know-how we have developed with our enterprise system development experience to not only further improve productivity and efficiency, but also to refine our abilities so that we can contribute to increase the business value of our customers.
* The corporate names, organization names, job titles and other names and titles appearing in this article are those as of May 2019.
Related articles

Vol.29

From system developer to value creator The Solutions Center, Striving for Value Co-Creation