In order to improve productivity and quality, the conditions of devices and equipment can be visualized in real-time by setting up IoT(Internet of Things) networks within factories. For manufacturing companies aiming to transform their businesses by increasing product value and creating new services, it is becoming vital to set up "manufacturing IoT" focused on product creation and "field IoT" focused on product usage, assessing the status of production devices at the sites in which they are in use.
Toshiba's "IoT Standard Pack" cloud service uses the Toshiba "SPINEX" IoT architecture concept as-is to accelerate the field deployment of IoT. Eyes are turning to this revolutionary service that provides global, wide-ranging visualization and remote monitoring services with optimized running costs.
Using SPINEX architecture to rapidly deploy the IoT
For customers that manufacture industrial devices and similar products, stable operation of devices, equipment, and facilities by end customers, maintenance cost reductions, and rapid maintenance implementation are vital issues. As the tide of globalization continues, visualization is becoming a prerequisite for increasing customer product and business value. Creating environments in which it is possible to determine the conditions of one's own devices and equipment, not just in Japan but in the factories of end customers worldwide, not only makes it possible to continuously optimize product lifecycles, but also produces opportunities to create new product-linked services for end customers.
Expectations are high for one method of accomplishing this -- the IoT, which makes detailed device visualization and real-time remote monitor possible. However, deploying IoT environments requires not only sophisticated device visualization expertise, but also a great deal of preparatory and engineering work, creating the systems used to select data from equipment and devices in use around the world, and to collect data, efficiently store it, and use it to carry out high precision analysis. Building a global IoT system capable of supporting wide area monitoring, from deployment to actual operation, takes a great deal of both time and money.
To address this problem, Toshiba has developed a cloud service for rapid deployment of IoT infrastructure. This service, based on SPINEX, the culmination of Toshiba's advanced technologies and expertise, can be used to perform visualization and remote monitoring of industrial devices and equipment in use in the field such as factories and buildings. In July 2016 Toshiba launched IoT Standard Pack, an all-in-one visualization and remote monitoring service available for a monthly fee, which encompasses everything from device connection to data collection and storage, operation condition visualize, and operation support. It has been highly praised for its ability to establish visualization and remote monitoring environments for large numbers of devices in both domestic and overseas sites, connecting them over a global network quickly and with optimized running costs. This service has been used by numerous customers since its launch (Fig. 1).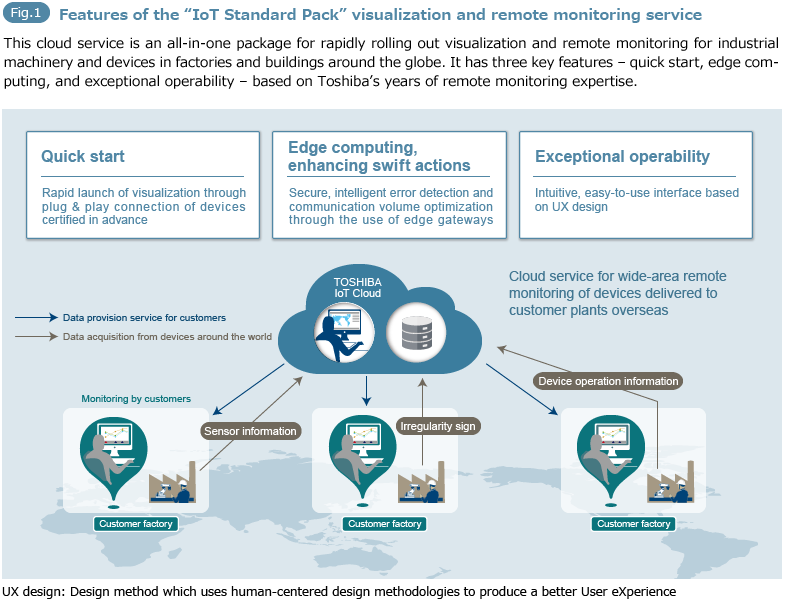 Click here to move to the top of this page.
Three features that make global visualization and remote monitoring easy
The IoT Standard Pack offers three key features.
1.Quick start
Templates are provided containing attribute information and interfaces for individual types of devices to be managed and monitored, and information regarding individual data types. These can be used to carry out required preparation such as consideration of devices and acquired data and arrangement of devices, which previously needed to be performed by customers themselves. The plug and play function makes it possible to connect devices which have undergone Toshiba operation verification to the IoT infrastructure just by connecting them to an edge gateway. This helps dramatically reduce the workload involved, from construction work to engineering work. IoT-based visualization and remote monitoring can be initiated quickly, in as little as four weeks from initial system consideration.
2.Edge computing
The IoT Standard Pack uses edge computing technologies, one of the core features of SPINEX. Edge and cloud collaborative distributed processing is used to reduce the amount of communications between edges and the cloud, thereby reducing the overall networking load. Irregularities are detected at provided edge gateways ?and actions according to the situation can be swiftly performed. Data is protected on the edge side and safe in terms of security.
3.Exceptional operability
The IoT Standard Pack provides device monitoring screens. UX design* methods are used to produce screens which are easy to understand, intuitive, and easy to use. Trend graphs, alerts, current measurement values, and other indices are laid out clearly. Managers and operators can smoothly share problems and performance conditions as they oversee stable device operation. Screens are also provided for mapping devices and plant locations on maps, providing bird's-eye views of areas. This also assists with wide area management (Fig. 2).
* UX design: Design method which uses human-centered design methodologies to produce a better User eXperience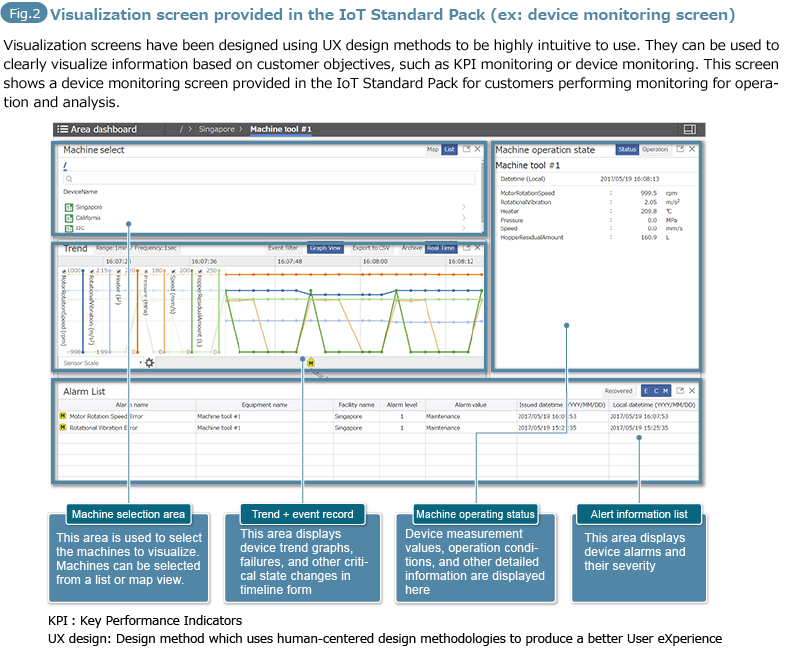 Help desk service is also provided as a standard feature of the IoT Standard Pack. Email inquiries and problem consultation are possible 24 hours a day, 365 days a year, and issues are escalated to specialists of network, software, and hardware. Rapid response and handling help support the long-term, stable operation of visualization and remote monitoring systems.
Click here to move to the top of this page.
The innovations of field IoT, used by a wide range of manufacturing customers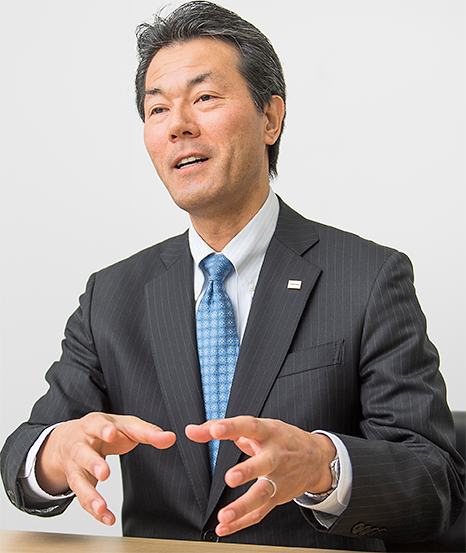 Many customers in the manufacturing industry and other industries perform wide-area remote monitoring using the IoT Standard Pack. It is helping them detect faults in devices supplied to end customers around the world, implement preventative maintenance, implement quality improvements, and optimize product lifecycles.
One industrial machinery manufacturer built a global IoT infrastructure for its newly shipped products using the IoT Standard Pack. It is collecting and storing data from products in use around the world, visualizing operation conditions and using this data to rapidly detect failures and carry out prompt maintenance, contributing to ongoing, stable product operation.
A machine tool manufacturer is using the IoT Standard Pack to reinforce its IoT utilization solution for preventing product problems and performing preventative maintenance. It plans to launch a new service which would extend its machine status visualization area worldwide.
Deployment of the IoT Standard Pack has been steadily rising since its launch, but we have no plans to rest on our laurels. We are confident that, in addition to the deployment examples presented here, this service can provide true value in an even wider range of industries and social applications. "We want to deploy the IoT, but we don't know where to start." "We want to begin visualization and remote monitoring, but we're worried about the cost and preparation time involved." "We want to connect devices in sites across the globe, using the IoT to transform our business model." If you find yourself in situations like these, consider using the IoT Standard Pack.
* The corporate names, organization names, job titles and other names and titles appearing in this article are those as of April 2017.
Related articles

Vol.21

Toshiba's new IoT architecture, "SPINEX" Digital innovation from Japan, changing the business models of the industrial world