Transmission
With our vast experience in high voltage (HV) & ultra-high voltage (UHV) transmission equipment, TTDA others a wide range of innovative products which will contribute to enhance the stability, reliability, efficiency and quality of power systems. HV primary equipment such as Gas Insulated Switchgears (GIS), Gas Circuit Breakers (GCB), Surge Arrestors, Disconnector Switches as well as Power Transformers (Oil Immersed) and Gas Insulated Transformers (GIT) are some of the products which we manufacture and supply globally. Our products are accredited internationally for conformity to International Electrotechnical Commission (IEC) and American National Standard Institute (ANSI) standards. Our commitment to quality, safety and reliability is our strength in achieving a foothold in the competitive global HV power equipment market.
Toshiba pioneered development of transformers in Japan since 1894 and have pioneered in the development and commercialization of Power Transformer up to 800kV, Gas Insulated Transformers (GIT) and advanced Site Assembly (ASA) transformers. Our product range for Oil Immersed Power Transformers starts from 60MVA to 1500MVA, GIT up to 300MVA, special transformers such as shunt reactors, converter transformers, furnace transformers for AC to DC, testing transformers and transformer parts such as on-load tap changers and bushings. To deal with the growing demand of electric power and various requirements, Toshiba will continue to upgrade transformer capacity and its voltage with latest advanced technology.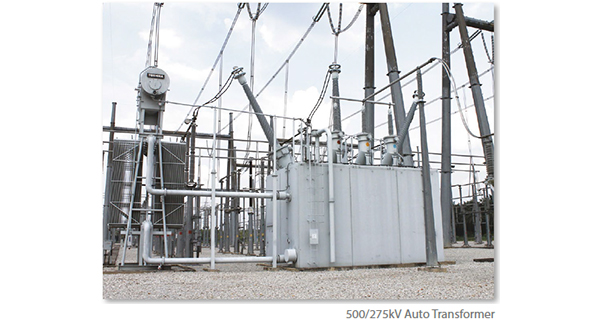 Toshiba's highly reliable gas insulated switchgear (GIS) is compact, sophisticated with superior features and suitable for robust environment (outdoor/indoor) as well as densely populated areas with limited space. Toshiba's GIS main features focuses on the compactness for aesthetic compatibility, outdoor capability, environmental resistant protection, safe operation and easy maintenance. Since 1969, Toshiba have supplied GIS globally to more than 900 GIS stations with over 6,000 units covering voltages from 72kV to 1100kV.