Distribution
TTDA manufactures medium voltage (MV) substation equipment. Our Vacuum Circuit Breakers (VCB) ranges from 6.6kV to 36kV for Air Insulated Switchgear (AIS), Solid Insulated Switchgears (SIS) and Gas Insulated Switchgears (GIS). Our Ring Main Unit (RMU) is fully SF6 insulated at a range of up to 24kV. TTDA's robust Compact Substation ranges from 12kV to 24kV with a rating from 500kVA up to 3000kVA. Our manufactured products are typetested and certified by independent Standards Testing Laboratories (STL) establishments suc has CESI (Italy), ASTA (Australia) and KEMA (Netherlands), in compliance with IEC and ANSI standards.
Toshiba has an extended history in designing and manufacturing distribution products according to any particular requirements, delivering advanced performance under the most demanding conditions. Our distribution transformers are available in primary voltages from 2.4kV to 69kV in 225 through 20,000kVA sizes, 600volt through 35kV secondary voltage ratings are also available in both oil-immersed and dry type. Toshiba distribution surge arresters can also be applied to a variety of systems including AC-DC converters, railway power system and power distribution units ranging from 3.3kV and 69kV systems.
TTDA is able to offer power distribution products and solutions covering requirements for applications such as generation, transmission, distribution, industrial and railway systems.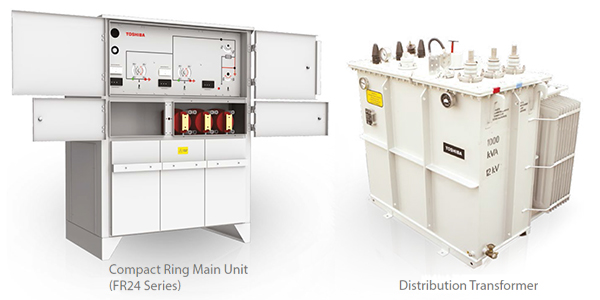 In association with industrial partners and contractors, TTDA constantly seeks to expand its regional network of suppliers of MV products and components to better serve our clients with a reliable range of products. While we're expanding our range of MV products to take advantage of growing market globally, we ensure that our MV products will continue to better serve our clients with the most reliable technological features.