Toshiba Digital Solutions Releases the Meister Cloud Series to Digitalize Value Chains in the Manufacturing Industry
- Utilizing the strength of digital twins to achieve traceability and share data in manufacturing value chains -
November 1, 2019
Toshiba Digital Solutions Corporation
KAWASAKI―Toshiba Digital Solutions Corporation (hereinafter TDSL) will release the Meister Cloud Series of IoT services for the manufacturing industry in early December 2019. These subscription-based services combine applications and templates designed for plants and equipment manufacturers with digital twins, which encapsulate all the manufacturing expertise of the Toshiba Group. TDSL will be providing this service to accommodate the shift toward digitalization of value chains in the manufacturing industry. These services enable traceability throughout entire supply chains including suppliers, overseas business sites, and manufacturing processes, and data sharing between plants and equipment manufacturers, while also making it easy to link various applications on the cloud.
In the manufacturing industry, IoT and AI are now being used in production processes at plants and for maintenance services by equipment manufacturers. With the spread of this recent trend, value chains in manufacturing are likely to continue shifting toward digital, while more demand for global utilization of data and data circulation between companies is expected.
On the other hand, digitalization initiatives involve high initial costs and long lead times, and it can be difficult to figure out what the return on investment will be. For these reasons, many companies are hesitating to fully implement IoT.
To address these challenges that are holding back digitalization in the manufacturing industry, TDSL is providing cloud services that combine applications and templates with advanced data models of digital twins1 that customers in the automotive and auto parts industries, as well as industrial equipment, robotics, electronic components, semiconductors, and other such industries are already putting to practical use. The applications and templates add sophistication to the manufacturing processes at plants, and to operation & maintenance (O&M) work for plant equipment.
The services that will be released are Manufacturing IoT Cloud Service Meister ManufactX™, which enables traceability for products throughout manufacturing processes along with visualization according to the 5M1E2 of changes in production status, and Asset IoT Cloud Service Meister RemoteX™3 for equipment manufacturers, which helps them optimize their remote monitoring and operations. These services offer applications and UI4 templates that are proven in the manufacturing industry, and customers can put together their optimal modules depending on each of their objectives.
These IoT services were developed and composed in accordance with Toshiba IoT Reference Architecture5.
These services enable traceability and data sharing throughout entire manufacturing value chains, not only within plants but also at overseas business sites and suppliers. Customers can use as much of the services they need when they need them, keeping initial investment costs down and scaling up flexibly according to the pace at which their business is expanding. In combination with the services, customers can use applications of various vendors on the cloud along with their own in-house developed applications.
With manufacturing expertise cultivated over the years by the Toshiba Group, TDSL has been providing the Meister Series of manufacturing IoT solutions which collect and store IoT data from manufacturing sites and utilize it effectively since April 2016. The solutions continue to be implemented at the sites of various customers in the manufacturing industry as well as at plants within the Toshiba Group.
TDSL will continue to bolster the Meister Cloud Series by incorporating customers' needs based on the actual usage of these solutions and forge deeper collaborative ties with business partners. The company is determined to help transform the businesses of customers in the manufacturing industry by innovating services that are easier to use and facilitate smooth transitions to IoT.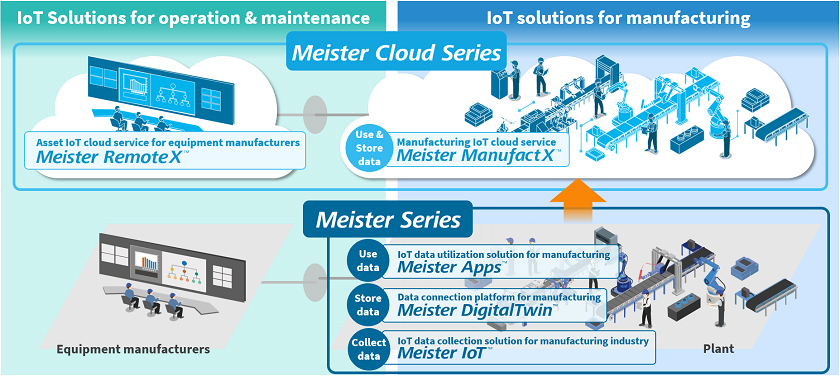 IoT Solutions and Services Provided by Toshiba Digital Solutions for the Manufacturing Industry
■Features of the Meister Cloud Series
Integrated data models that systematically store data from manufacturing sites and facilitate its use
Provides platforms that can combine and use on-site IoT data and business operations data from core information systems thanks to comprehensively systematized integrated data models based on the manufacturing expertise of the Toshiba Group. Visualizing, analyzing, and running simulations on the data in digital twin helps facilitate continuous improvements at manufacturing sites.
Traceability throughout the value chain
Provides a traceability function that spans multiple manufacturing processes, manufacturing sites, and suppliers. It can cater to demand for the ability to track the production history of products or parts, and trace problems quickly back to manufacturing processes, production recipes, and status of lines or equipment from the results of quality inspections. This greatly reduces the time and workload needed for quality management and reporting, thereby improving accountability to the receivers of shipments.
Ability to easily link with a variety of applications on the cloud
Familiar cloud-based applications and customers' in-house developed applications can be used flexibly in combination with Meister Cloud Series services.
Subscription services, easy-to-implement
The services are provided in subscription format based on meter rate charging. Customers can keep their initial investment low and use what they need when they need it, allowing them to scale up flexibly according to the pace at which business is expanding.
Know the usage status of equipment at the locations they are delivered, and improve O&M services
Equipment manufacturers can not only remotely monitor the operating status of their products after delivering them, but also use this information to optimize the operations of equipment their customers own and make proposals for maintenance or upgrades of the equipment. This provides the platform for O&M service businesses.
[Note]
*1 Digital twin: A method of cyber physical system (CPS) that maps data collected from real sites in digital space just like a twin, analyzes and runs simulations on it, then returns it to the real world. By leveraging the manufacturing expertise of the Toshiba Group, Toshiba Digital Solutions developed Manufacturing IoT Platform Meister DigitalTwin™ as a core product in the Manufacturing IoT Solutions Meister Series, and released it for use in April 2016. Meister DigitalTwin™ links the varied, vast data generated at manufacturing sites and recreates them in digital space. The Meister Cloud Series now being released will offerthe data model of Meister DigitalTwin™ as an integrated function.
*2 5M1E: Five M's for man, machine, method, material, and measurement; one E for environment.
*3 Meister RemoteX is the successor product to Toshiba Digital Solutions'

IoT Standard Pack.

*4 UI: User Interface
*5 Toshiba IoT Reference Architecture: A framework for creating cyber physical systems (CPS)composed by Toshiba according to global reference architecture such as Industrial Internet Consortium (IIC), National Institute of Standards and Technology (NIST), and Acatech. Use of this framework can accelerate open collaboration that transcends boundaries between various stakeholders, while also helping businesses to expand.
* Meister DigitalTwin, Meister ManufactX, and Meister RemoteX are registered trademarks or trademarks of Toshiba Digital Solutions Corporation in Japan or in other countries.
* In some cases, other company names and product names mentioned in this article are being used as trademarks or registered trademarks of those companies.