Toshiba Digital Solutions Releases the Manufacturing IoT Data Utilization Solution, Meister Apps™
- Co-creation with Partners to Accelerate the Speed of the Digital Transformation of the Manufacturing Industry -
November 1, 2018
Toshiba Digital Solutions Corporation
KAWASAKI, Japan—Toshiba Digital Solutions Corporation (TDSL) today releases Meister Apps™, a solution that further enhances the value of IoT data through visualization, analysis and traceability carried out in accordance with specific purposes. This solution connects to the data connection platform for manufacturing Meister DigitalTwin™, which is the core product in the manufacturing IoT solutions Meister Series. In addition to offering various TDSL applications, the products and services of partner companies will also be added to Meister Apps™ from now on to flexibly support the utilization of data for various manufacturing requirements.
Production technology and manufacturing expertise cultivated by the Toshiba Group have been mobilized in the Meister Series - a suite of solutions for the manufacturing industry. The Meister Series is a solution for the manufacturing industry based on Toshiba's IoT SPINEX™, which realizes the collection, storage and effective utilization of IoT data in the manufacturing industry. Meister DigitalTwin™ is the core product in the Meister Series. It is an information platform that connects the wide variety of big data that is generated at the manufacturing site and reproduce them in a digital space. The relationship between data is automatically maintained through a multipurpose data model for the manufacturing industry. The high-speed big data processing platform speedily storage data in chronological order, making possible the management, analysis and tracking of past and present data related to products.
In addition to the applications connected with Meister DigitalTwin™, the IoT data utilization solution Meister Apps™ released today will provide data analytical tools and services, including consulting on data utilization and utilization of the latest AI technology. Templates for visualization of factories and utilities, analysis data output and traceability will be released today as Part 1.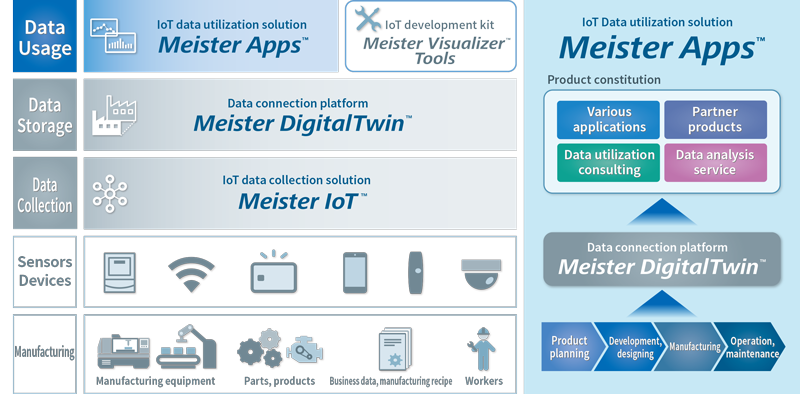 Meister Apps™ applications to be released today
Traceability template:

When an in-process or post shipment defect arises, this function traces when, where and how the relevant product was made as well as how much that product has spread. Traceability is realized by using information, including IoT data from the time of manufacturing, to infer a pattern for the cause of the defect.

Utility visualization template:

This is a function that supports the early detection of facility abnormalities by monitoring the operation status of factory utility facilities as well as monitoring the sensor values of external sensors, etc.

Factory visualization template:

This is a function that supports the discovery of points for improvement by displaying, as diagrams and graphs, production progress, facility events and quality-related alerts.

Analysis data output template:

This is a function used for the analysis and utilization of IoT data and business data stored in Meister DigitalTwin™ by extracting product basis data on various conditions across processes.
TDSL will continue to further fortify the Meister Series as well as strengthen its collaboration with the products and services of partner companies, and reinforce its cooperative relationships with partners who sell and roll out the Meister Series. By doing so, TDSL will develop its IoT business globally and promote the digital transformation of manufacturing through co-creation.
Notes:
* Meister Apps and Meister DigitalTwin are registered trademarks or trademarks of Toshiba Digital Solutions Corporation in Japan and other countries.
* SPINEX is a registered trademark of Toshiba Digital Solutions Corporation in Japan.
* Other company names and product names in this document may be trademarks or registered trademarks of the respective companies.