Toshiba Digital Solutions is helping Overseas Visitors to Kumamoto Prefecture Multi-language translation provided by Communication AI RECAIUS Service
July 18, 2017
Toshiba Digital Solutions Corporation
KAWASAKI—Overseas tourists in Kumamoto, the Kyushu city known for its castle, cherry blossom and other attractions, will soon be able to get more out of their trip, thanks to a new interactive tourist information system. Based on RECAIUS, Toshiba AI communication service, the system has been provided by Toshiba Digital Solutions Corporation (TDSL) as a CSR activity, and will be provided to Kumamoto City free-of-charge for a year. A ceremony to mark the launch of the service was held on July 16.
The multi-language translation and information service, built on RECAIUS, is located in the Kumamon Square, tourist information office in the city center. To make visitors feel more at home, the system interface is an image of Kumamon, internationally popular mascot for his ruddy cheeks and friendly smile.
Staffers at Kumamon Square provide visitors with a smartphone loaded with the RECAIUS app. When the app is opened, Kumamon pops up on the screen, and tourists can ask questions in Japanese, English, Chinese or Korean. Questions are simultaneously translated and the answers are displayed on the smartphone screen and read out by text-to-speech technology in real time. That's not all. Another system that displays answers to frequently asked questions on a wall-mounted 55-inch display, once again with the presence of Kumamon.
TDSL is also supporting Kumamoto city in analyzing tourist flows, so as to help the city provide visitors with a better experience. The RECAIUS system uses Wi-Fi sensors to collect completely anonymous information on other locations visitors have been to recently. This will allow the city to get a better idea of where people are from and to provide appropriate support and services.
Kumamoto prefecture expects to see many more visitors in coming years. The city is one of the venues for the Rugby World Cup 2019, and will host the World Women's Handball Championship the same year. Through this CSR activity, TDSL wants to support Kumamoto prefecture's recovery from the 2016 Kumamoto earthquakes and to help the city extend a warm welcome to overseas visitors.
Overview of the service
1. RECAIUS's multi language translator, Kumamon version

Staffers at Kumamon Square are provided with smartphones installed with RECAIUS's multi language translator app. The special Kumamon version app is available from July 16.

2. Big data analysis service for tourist site

The system identifies devices in the Kumamon Square that have Wi-Fi installed, and recognizes the locations that the device was carried to, including places other than Kumamoto, that the device was carried to. This anonymous information help to understand where visitors originate from, and trends in visits.

3.Touch-panel digital signage screen

A 55-inch touch-panel digital signage display provides tourists with information of Kumamoto prefecture in Japanese, English, Chinese and Korean. It displays responses to frequently asked questions in the four languages.

4. Articles on WeChat

Two articles on WeChat, China's most popular SNS app, will promote Kumamon Square to would-be visitors.
Screen image of multi language translator app, special Kumamon version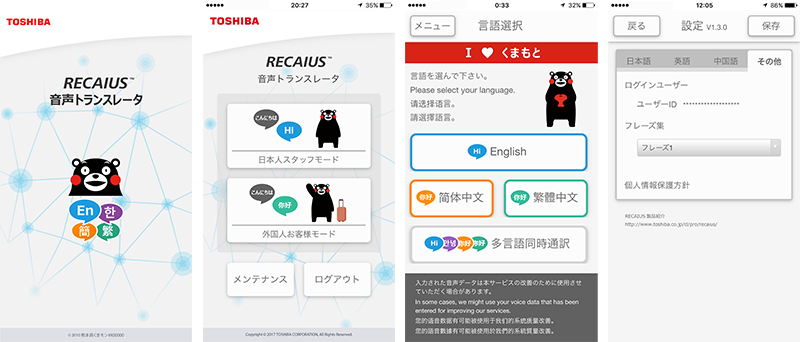 Picture of the ceremony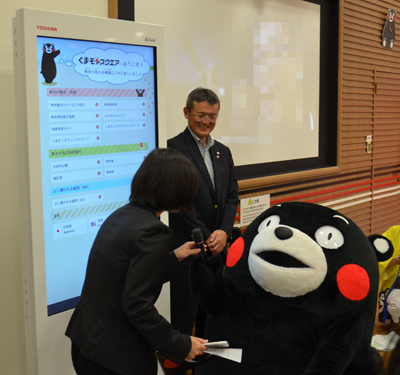 * RECAIUS is a trademark of Toshiba Digital Solutions Corporation.