"Coordinate Plus," Toshiba's Virtual Fitting System
Ready for Deep Link with Internet Shopping sites
- Selected as the virtual fitting app at BIGBANG Japan Dome Tour shopping site -
November 4, 2016
TOKYO—Toshiba Corporation's (TOKYO: 6502) "Coordinate Plus" is set to move into the world of idol fashion, as the virtual fitting system will accompany the Korean boy band BIGBANG on their Japanese tour and let fans at the venues try out band-related goods.
Toshiba has upgraded Coordinate Plus to make it an almost instant, mobile experience that connects users of smart phones1 to internet shopping sites via a URL scheme2. Now Coordinate Plus can be connected to any e-commerce site via a standard interface that will realize a more personal and satisfying experience for on-line bargain hunters.
mu-mo shop, operated by Avex and the official retailer for the BIGBANG tour, and for other artists, will introduce Coordinate Plus and its virtual fitting app during the November 5-December 29 BIGBANG Japan Dome Tour. Fans will be able to download the app and use it there and then, or whenever and wherever they like once it is installed.
Once opened, the app will take fans to a BIGBANG on-line store, where they can find goods and see how they look superimposed on an uploaded photograph. The images can be viewed from various angles, to get a good sense of how the goods look and easily shared with friends on SNS, and purchases can be made on-line. The app can also be used directly in the on-line store ? and any store that adopts Coordinate Plus.
Coordinate Plus's virtual fitting service provides customers with an easy and convenient shopping platform for checking out clothes and accessories and seeing how they look, with all the convenience and immediacy of internet browsing and shopping. The fun experience that is offers is expected to make it a favorite in the retail market. Toshiba now provides two flavors of Coordinate Plus: as a display-based mirror-like version installed in virtual fitting tool in shops, and as new mobile app that allows experimenting with virtual fitting on a smartphone and tablet.
Toshiba will continue to enhance the virtual fitting service business and to contribute high-value added services that utilize Toshiba's ICT solutions.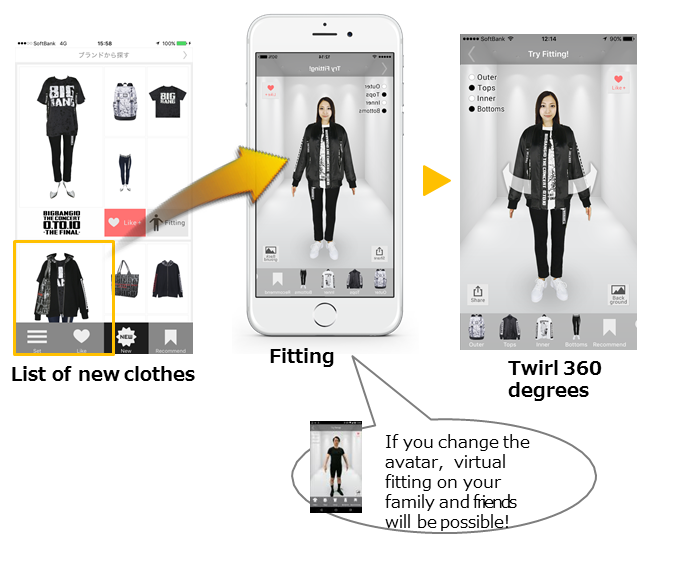 [Note]
1. Available on iOS 8.4 or later running on an iPhone, iPad or iPod touch, and on Android 4.2 or later. Requires installation of a free-app: Coordinate Plus. This service is available only in Japan.
2. URL scheme is the technical setting in iOS and/or Android apps used to enable deep links into a page or function within an app from the web browser or another app.
* iPhone, iPad, iPod touch are trademark or registered trademark of Apple Inc. in the U.S. and other countries and is used under license.
* iOS is a trademark or registered trademark of Cisco in the U.S. and other countries and is used under license.
* Android is a trademark of Google Inc.