Toshiba Expands Meister with Operation & Maintenance Visualizer Suite,Cloud-Based Solution for Remote System Surveillance and Monitoring
- Combining IoT and life cycle data on manufacturing machines to minimize downtime -
October 27, 2016
TOKYO—Toshiba Corporation (TOKYO: 6502) today reinforced its Meister series of next-generation manufacturing solutions with the launch of Meister Visualizer Suite for O&M (Operation and Maintenance), a cloud-based solution for manufacturing machines surveillance and monitoring.
Drawing on Toshiba's industry-leading capabilities in the Internet of Things (IoT) and cyber-physical systems*1, Meister Visualizer Suite for O&M integrates and visualizes manufacturing machines' comprehensive life cycle data, including IoT-derived data, configuration information, and their maintenance history and documentation. This capability supports Visualizer Suite in delivering prompt responses to machine maintenance needs and helping to minimize machine downtime.
Failure or misfunction of a manufacturing machine can bring an entire production line grinding to a halt, and must be rectified quickly and efficiently. Meister Visualizer Suite for O&M integrates information about the operating status of individual manufacturing machines, including their specifications, constituent components, maintenance histories and the like, and provides line supervisors with all the information necessary for remote monitoring. This helps them to realize early detection of possible signs of failure and to quickly collect information in the event of abnormal condition, in order to achieve early recovery.
Toshiba will continue to enhance the Meister series of next-generation manufacturing solutions and to provide one-stop support for a wide range of business operations, including product planning, design, development and sale, and seek to increase the value of the services it provides for manufacturing industry.
Features of Meister Visualizer Suite for O&M
(1) All-in-one package
The Meister Visualizer Suite for O&M package contains all the functions for cloud-based collection, store and visualization of data necessary for remote monitoring. The time required to build a system can be significantly reduced.
(2) Comprehensive product information integration
The Meister Visualizer Suite for O&M integrates essential information about machines that Meister is monitoring?their configurations, operating status and parts replacement history, including their locations in factories around the world?on Meister Twin™, a core element of the suite. The suite's various display capabilities include monitoring machine configuration and status, parts replacement history, KPI*2 and other data, for any and all systems, whatever their location, and they ensure timely decision-making and a prompt response in the event that any abnormality or misoperation is detected.
(3) Real-time detection of abnormal conditions and rapid responses
Edge computing*3 allows real-time action to be taken near the manufacturing site. Meister Visualizer Suite for O&M detects any abnormal condition or possible signs of one, and takes appropriate action in milliseconds. Meister Visualizer Suite for O&M uploads only necessary information to the cloud, to reduce data traffic volumes.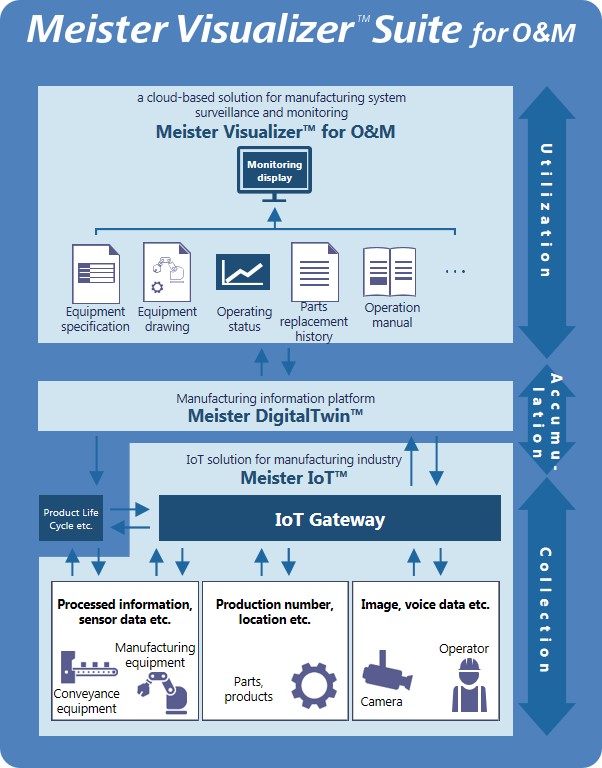 Price
- Initial cost: From 3-million yen, depending on configuration
- Monthly fee: From 900,000 yen (ten devices, 150GB data capacity, simultaneous access by up to five users)
[Note]
*1 Cyber-physical system (CPS): A mechanism by which appropriate information or a solution is derived by analyzing big data and translating them into knowledge, as opposed to a system that provides a reproduction of physical events using sensor networks. CPS is one of the key technologies included in the German government's Industrie 4.0 strategy.
*2 KPI: Key performance indicator. KPI is a type of quantitative measurement to evaluate the achievement of a company or an organization's operational goal.
*3 Edge computing: A technology to reduce the work load of real-time processing and data traffic loads by installing agent software on devices in the vicinity of data sources and have them upload only the necessary data to the cloud.
About Meister series of next-generation manufacturing solution
Meister is a suite of next-generation manufacturing solutions ready to bring revolutionary innovations to manufacturing industry. Meister's solutions draw on edge-to-cloud Internet of Things (IoT) technology and advanced information and communications technology (ICT) to support manufacturers in collecting, storing, analyzing and using IoT data to enhance their operations, efficiency and productivity.
For more information: please see the following press release. "Meister, Toshiba's Next-Generation Manufacturing Solutions, Set to Bring Revolutionary Changes to Manufacturing - Drawing on Toshiba's expertise and know-how to support innovation in manufacturing" https://www.global.toshiba/ww/company/digitalsolution/news/2016/03_08.html