Toshiba and Jinya Connect take Proof of Concept tests of AI-based Operation-support solution at Jinya Inn, Japanese Traditional Hot Spring Hotel
- Providing high-quality hospitality with Toshiba's cloud AI service RECAIUS™ -
October 27, 2016
TOKYO—Toshiba Corporation (TOKYO: 6502, Toshiba) and Jinya Connect Co. Ltd. (Jinya Connect), a leading provider of the hotel management applications, have started Proof of Concept (PoC) tests of their new cloud-based communication and operation support system which combines original management system "Jinya Connect" with the voice recognition technology of Toshiba's cloud AI service RECAIUS™ platform. The tests are going on the site "Jinya Inn", traditional hot spring inn in Tsurumaki-onsen, Kanagawa prefecture. Through this PoC tests, Toshiba and Jinya Connect aim to realize easier communication among the hotel staff and more effectiveness on their work.
At Jinya Inn, the system Jinya Connect has been utilized for information exchange among hotel staff to provide better service to their customer. With tablet and wireless transceiver, hotel staff has been communicated each other however there have been some problems.
One is the typing of text into the tablet. It is a burden on the staff and disturbs the service for guests. Other is that no log data is remained if information was transferred by voice through transceiver system. Any conformation later is impossible.
RECAIUS™ is expected to solve these problems by voice recognition technology. Auto speech-to-text conversion function of RECAIUS™ can deliver voice information from each staff to Jinya Connect system as the text, without any manual action by the staff. Only one thing the staff should do is talking through microphone usually. This workload reduction will allow staff to concentrate on guests then improvement of the quality of hospitality will be realized.
"In the Omotenashi spirit, as Japanese hospitality, we place grate value on two things. One is the maximization of the face time with our guests, and other is sharing the individual information of guests between staffs to provide optimum service to each guest. Considering this purpose, information technology (IT) plays important role to enhance communication between staffs and should be the key to effectiveness," said Tomio Miyazaki, CEO of Jinya Co. Ltd. and Jinya Connect Co. Ltd. "By utilizing Toshiba's voice recognition technology on RECAIUS™, we can input any service information to our system without typing and can share it. Because of the easiness of the operation, it can minimize miscommunication between staffs and reduce the burden of staffs."
For further improvement of Omotenashi service quality, Toshiba and Jinya Connect are also planning to introduce additional Jinya Connect functions with RECAIUS™. RECAIUS™ will analyze automatically accumulated voice and texts information then connect those with the customer relations management system of Jinya Connect. This data-analyzing approach can support offering appropriate service for individual customer, they expect.
Overview of Proof of Concept tests:
- Change the way of posting information on Jinya Connect's SNS tool 'Chatter by salesforce', from text typing to voice input, using Toshiba's voice recognition technology on cloud AI service RECAIUS™ platform. Hotel staff comments simply by speaking through the microphone.
- Multicast voice data to other staff members' tablets. It enables staffs to communicate with voice. Review of historical data ? both voice and text ? is also possible for each staff then any staff who missed catching the real time information can confirm it later.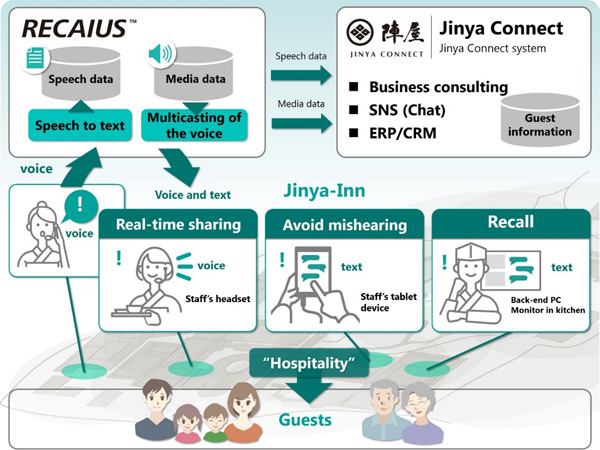 [Note]
* RECAIUS™ is a trademark of Toshiba Corporation.
* Jinya Connect is a trademark of Jinya Connect Co., Ltd.
* Salesforce is a trademark of Salesforce.com, inc.
About Jinya Connect, cloud-based hotel information management system
Jinya Connect Co., Ltd. started development and sales of the Jinya Connect cloud-based hotel information management system in order to provide a hotel management solution enabling hotel staff to exchange and share information, manage all data in a single environment, and provide operation efficiency know-how. Jinya Connect uses state-of-the-art technology to realize efficient customer service, one of the main concerns of any hotel, and to realize cost reductions. Jinya Connect is now in use at around 180 facilities in Japan. For further information, http://www.jinya-connect.com/
About RECAIUS™
RECAIUS™ is a cloud-based AI service that supports various human activities by understanding the intent of others in audio and visual recordings. This service combines and systematizes various technologies for media knowledge processing (media intelligence) that Toshiba has developed over many years, including speech recognition, speech synthesis, translation, interpreting, intent understanding, and image recognition of faces and individuals. RECAIUS™ contributes to the creation of new lifestyles and business opportunities.