Can I Help You?
Toshiba Launches New Freemium Plans for Voice Recognition and Translation App
- Toshiba's AI realizes instantaneous translation for Japanese, Chinese, English and Korean -
October 19, 2016
TOKYO—Toshiba Corporation (TOKYO: 6502) today extended a helping hand to overseas visitors to Japan*1 with the launch of new freemium*2 plans for its RECAIUS™ voice recognition and translation app. The RECAIUS app supports Chinese, English and Korean translation to and from Japanese*3, and the freemium plans will help staff in shops, hotels, restaurants, train stations and the many other places visited by Japan's growing number of inbound visitors, to offer tourists better understanding and support.
The RECAIUS app is already a hit with business users, and Toshiba is now making it available in two versions for users who do not require unlimited access: a free-of-charge entry plan*4 that restricts access time (audio input time) per month and limits installation to one smartphone; and a low-priced basic plan*5 that allows installation on multiple users, plus support. Use of the plans is expected to support and invigorate businesses targeting foreign visitors.
Unlike general voice translator apps for tourists, the RECAIUS app is specifically designed to help shop and facility clerks communicate with foreign visitors, and supports English-Japanese, Japanese-English, Chinese-Japanese, Japanese-Chinese and Japanese- Korean translation. For example, when a visitor and a clerk speak into a smartphone, the RECAIUS app provides real-time translation in text and audio. This allows them to have conversations while viewing translation results on the smartphone screen (See Fig. below). Its main functions include dictionary registration and phrase registration:
Dictionary registration
Users can access and add words and terms to a user-configurable dictionary to make the RECAIUS app correctly translate product and facility names and other proper nouns. The RECAIUS app provides the correct translation depending on the context if this term is added to its dictionary with its English equivalents.

Phrase registration
Users can also add frequently used phrase pairs between Japanese and English (or Chinese, Korean) to the RECAIUS app to enable quick access to an appropriate translation. For example, Adding the Japanese phrase for "Go out of the station and turn left, and you will find a taxi stand" to the phrase dictionary with its Chinese/English/Korean equivalent enables a quick response to common inquiries at a train information desk.
Drawing on RECAIUS voice translation and other simultaneous interpretation technologies, Toshiba supports its customers in providing various services. In fact, the RECAIUS app has been adopted by information centers at shopping malls and demonstrated at the Midori no Madoguchi ticket office at a JR train station.
[Note]
*1 For the Japanese Market only
*2 Freemium: Pricing model where a service is provided free of charge, but a premium is charged for proprietary features or special terms of use.
*3 Korean to Japanese will be available in 2017.
*4 Entry plan: The entry plan provides free access to RECAIUS for up to one hour per month. Its free-of-charge availability and other specifications are subject to change. The entry plan does not include technical assistance or support by Toshiba.
*5 Basic plan: Available from January 2017.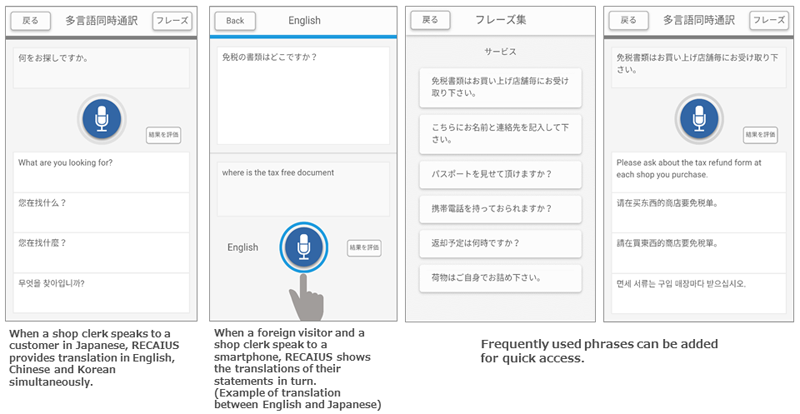 About RECAIUS™
RECAIUS is a cloud-based AI service that supports various activities by understanding the intent and conditions of people in audio and visual recordings. The service combines and systematizes various technologies for media knowledge processing (media intelligence) that Toshiba has developed over many years, including speech recognition, speech synthesis, translation, interpreting, intent understanding, and image recognition of faces and individuals. RECAIUS contributes to the creation of new lifestyles and business opportunities.
RECAIUS [ ri-kahy-uh s] = RECognize with AI + us (people)
The pronunciation of "RECAI" is the same as the word for "understand" in Japanese.
* RECAIUS is a trademark of Toshiba Corporation.