Toshiba Introduces Retail Market Loyalty Program Management System to Vietnam
- Launched at FPT Group's 330 retail shops, largest ICT Group in Vietnam -
July 11, 2016
Tokyo—Toshiba Corporation (TOKYO: 6502) today announced the launch of its customer loyalty and reward management system in all 330 FPT shops operated by FPT group, Vietnam's leading ICT company. This is the first time that Toshiba's point system, known in Japan as PointArtist®, has been deployed overseas, and will support Toshiba in developing its ICT business, including retail solutions, in the ASEAN market.
Toshiba's point system is employed by major supermarket chains in Japan, and has over 40 million end users. It allows customers to earn and utilize points, and supports retailers in improving sales and marketing by understanding customer visits and purchase histories. Toshiba's extensive experience, installation record and comprehensive support structure, from system implementation to operation design, were contributing factors in FPT shop's selection of this system. Toshiba and FPT group's software products and services provider, FPT Software, cooperated on localization, including language, currency and tax requirements.
"Through our strategic alliance with FPT, we identified PointArtist® as a potential area for collaboration." said Mr. Tomoki Tada, Vice President of Toshiba's Industrial ICT Solutions Company. "By introducing our customer-oriented technology and solutions to ICT-based retail solutions FPT group and Vietnam, we are committing to contribute to the modernization of Vietnam's retail sector. We will also seek to strengthen our business base in Vietnam and our presence in ASEAN's ICT market."
"In addition to increasing the coverage of FPT shops nationwide to reach new customers, engaging them in our shops via loyalty and promotion programs is also a strategic approach that we are focusing and will prioritize from now on." said Ms. Giang Doan, Vice Director of Business Development Department, FPT Retail JSC. "To foster this approach, finding a prestigious solution provider is a key of success, I think. As a global name providing innovative qualified IT solutions, I believe Toshiba's point system delivered by FPT Software, can help us to implement diversified loyalty campaigns efficiently. Working with Toshiba's team in this project helped me to consolidate my thinking and was very useful."
Vietnam has recorded the highest GDP growth rate in the fast growing ASEAN region for the last ten years, and the potential for future growth remains high. In the retail sector, while small stores still play the main role, the shares of modern retailers, convenience stores and supermarket chains are expected to rise from 18% in 2015 to around 24% in 2020.
Toshiba has a long established presence in Vietnam. In 2007, the company set up a software development center in Hanoi to provide Vietnamese software engineers with training and know-how in embedded software and systems. Toshiba also provides scholarships to Vietnam's two national universities, Vietnam National University in Hanoi and Vietnam National University in Ho Chi Minh City, and to Hanoi University of Technology.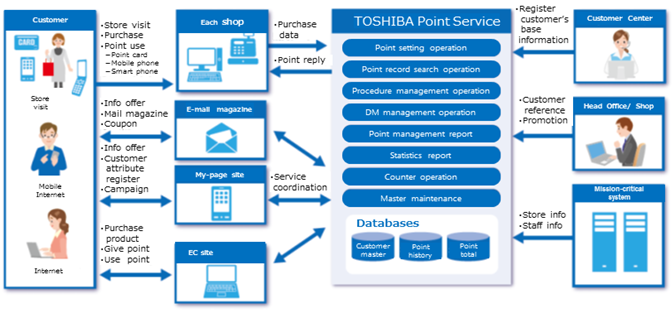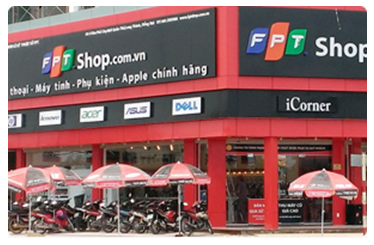 About Toshiba
Toshiba Corporation, a Fortune Global 500 company, channels world-class capabilities in advanced electronic and electrical product and systems into three focus business fields: Energy that sustains everyday life, that is cleaner and safer; Infrastructure that sustains quality of life; and Storage that sustains the advanced information society. Guided by the principles of The Basic Commitment of the Toshiba Group, "Committed to People, Committed to the Future", Toshiba promotes global operations and is contributing to the realization of a world where generations to come can live better lives.
Founded in Tokyo in 1875, today's Toshiba is at the heart of a global network of 550 consolidated companies employing 188,000 people worldwide, with annual sales surpassing 5.6 trillion yen (US$50 billion). (As of March 31, 2016.) To find out more about Toshiba, visit www.toshiba.co.jp/index.htm