"Meister," Toshiba's Next-Generation Manufacturing Solutions, Set to Bring Revolutionary Changes to Manufacturing
- Drawing on Toshiba's expertise and know-how to support innovation in manufacturing -
March 29, 2016
TOKYO—Toshiba Corporation (TOKYO: 6502) today announced the launch of Meister, a suite of next-generation manufacturing solutions ready to bring revolutionary innovations to manufacturing industry. Meister's solutions draw on edge*1-to-cloud Internet of Things (IoT) technology and advanced information and communications technology (ICT) to support manufacturers in collecting, storing, analyzing and using IoT data to enhance their operations, efficiency and productivity.
Industrie 4.0 or Industrial Internet is often described as the fourth industrial revolution. Meister lives up to that promise by interconnecting customers' manufacturing equipment and processes with products in the field, collecting and analyzing data that can increase manufacturing efficiency and yields and help create new value.
Toshiba developed Meister by leveraging manufacturing expertise built up through long years of experience in manufacturing businesses ranging from semiconductors to social infrastructure, plus know-how in remote monitoring and maintenance from social infrastructure industry. Meister's solutions also incorporate cutting-edge IoT technologies developed in alliance with major global companies.
Meister will help factories to improve productivity and quality. It efficiently collects and processes IoT data generated on production lines, focusing on combining and storing data in an organic manner, spanning the entire manufacturing value chain*2. The data is used to visualize what is happening in factories around the world in real time. IoT big-data analytics derived from Toshiba's unique technologies also helps optimize manufacturing processes and improve quality and productivity.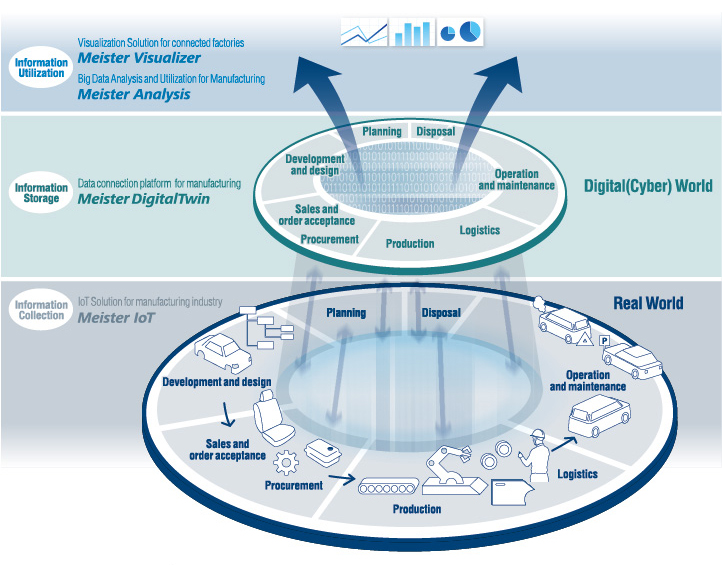 Overview of Meister and its Solutions
Support for the Collection of Information
Meister IoT: A solution for manufacturing industry that makes products and systems smart and simplifies their networking to achieve real-time processing at factories and in edge data sources.
Meister IoT allows external sensors and communication functions to be easily added to various products, machines and equipment utilized at factories and in the field. This also makes it possible to realize Toshiba-recommended on-site edge-rich*3 IoT computing suitable for specific situations at a site or in a use environment. Meister IoT also allows edge devices to incorporate image recognition, image processing and other technologies Toshiba has cultivated over long years. While real-time performance is difficult to achieve with conventional cloud computing only, Meister IoT delivers a low-latency, real-time capability to factories with severe run-time performance restrictions, as well as to other sites where industrial and infrastructure systems are deployed.
Support for the Store of Information
Meister Twin: A manufacturing information platform that stores data in real time, seamlessly connecting all processes with data throughout a product life cycle.
Meister Twin is an information platform capable of rapid, real-time correlation and store of data generated in a product life cycle, from production to operation and maintenance. This capability is underpinned by generic data models derived from Toshiba's extensive experiences in the manufacturing of diverse products, including semiconductor devices and social infrastructure systems, as well as in integrated big-data solutions (e.g., GridDB) that have a proven track record in establishing social infrastructure systems. Meister Twin allows users to reproduce what is happening at a physical site in the space, enabling integrated manufacturing management and thus the optimization of the overall manufacturing value chain.
Support for the Utilization of Information
Meister Visualizer: A visualization solution for interconnected factories that delivers elaborate real-time visualization of collected monitoring data, and that supports factories and operation and maintenance sites all over the world
Meister Visualizer combines Toshiba's unique real-time data processing and user interface technologies to visualize, in real time, not only business data but also constantly changing factory data and continuous analysis data. Meister Visualizer makes it possible to accurately grasp manufacturing situations and quality information at a specific factory as well as all factories connected with an IoT network. This helps supervisors and managers become aware of changes in real time and expedite the decision-making process.
Meister Analysis: A big-data analytics and utilization solution for manufacturing that identifies cause-and-effect relationships that have escaped the attention of even master craftsmen, and that improves quality and productivity
Drawing on event pattern analysis*4 and other technologies based on the expertise built up at Toshiba's semiconductor fabs and other factories, Meister Analysis analyzes complicated correlations between various events that exist in the huge volume of data generated in manufacturing processes. Meister Analysis uncovers the causes of defects and failures that even experienced engineers cannot identify, as well as new bottlenecks, and then translates them into explicit knowledge. Meister Analysis allows continuous improvement in yield and productivity by feeding back analyses to manufacturing processes.
With the aim of realizing next-generation manufacturing, Toshiba will continue to offer not only factory-oriented solutions but also those for the overall product life cycle. These solutions will also be upgraded to meet the needs of next-generation manufacturing.
Manufacturing is undergoing revolutionary changes worldwide. Toshiba will continue to develop optimal solutions that meet the needs of customers aiming at the advancement of manufacturing.
[Note]
*1 Edge: Locations close to the sources of data, such as factories and places where products are used.
*2 Value chain: A set of activities that a company operating in the manufacturing industry performs, including product planning, design, development, manufacturing and sales.
*3 Edge-rich: An environment in which analysis and other processes are performed on the edge of a network (e.g., factories and edge devices) in a manner more sophisticated than edge computing.
*4 Event pattern analysis technology: Toshiba's unique analysis technology to extract a combination of events (i.e., a pattern) that is likely to cause a specific result from a multitude of event sequences. This technology can be used to infer the causes of defects and failures and to create abnormality prediction models.