Sustainability Report Download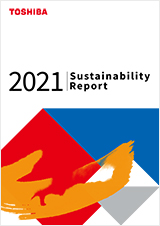 Since FY2020, Toshiba Group has issued its Sustainability Report by integrating social reporting into its Environmental Report.
We recommend viewing this report (PDF) in the latest browser.
Note that content may not display or operate correctly depending on the device being used, and browser type, version and settings.
* It has been confirmed that content displays and operates correctly on Google Chrome version 97 and 98.
The Contents of Sustainability Report 2021
Reporting and Disclosure Items
Sustainability Reporting Policy
Corporate Information
Business Domains
The Essence of Toshiba
Message from Top Management
Message from the Executive in charge of Sustainability
Message from the Executive in charge of Environment
Sustainability Management of Toshiba Group
Sustainability Management
Material Issues
Activities to Promote the SDGs
Participation in External CSR Organizations
Stakeholders
Toshiba Group ESG Performance
Main Contents of ESG Performance
FY2020 Performance Indicators
Environment
Vision, Strategies and Structure
Response to Climate Change
Response to the Circular Economy
Consideration of Ecosystems
Enhancement of the Basis of Environmental Management
Social
Respect for Human Rights
Employment and Labor Relations
Fair Evaluation and Talent Development
Promotion of Diversity and Inclusion
Occupational Health and Safety
Promotion of Sustainable Procurement
Quality Control for Safety and Reliability
Product Safety and Product Security
Improvement of Customer Satisfaction
Universal Design
Coexistence with Local Communities
Social Contribution Activities
Governance
Corporate Governance
Risk Management and Compliance
Research & Development and Intellectual Property
Evaluation by External Parties
History of Sustainability Activities
Comparisons with Various Guidelines
ESG Data Collection
Third-party Verification
Questionnaire for Sustainability Report 2021
Your comments and suggestions will be appreciated

Your responses will be SSL encrypted and protected. If your browser does not support SSL or if your network connection is via an intranet protected by a firewall, you may not be able to access the questionnaire page.
Your comments and suggestions may be referred to in the next report.