Universal Design



Toshiba Group is promoting universal design (UD), in order to contribute to the realization of a society where everyone can live at ease and in comfort, regardless of age, gender, and physical ability.
Medium- to Long-term Vision
By providing products and services that can satisfy diverse users, Toshiba will contribute to making more comfortable lifestyles and a safer society.
FY2020 Achievements
Destination Control System FLOORNAVI won Bronze Award in the IAUD International Design Award 2020.
Engaged in hydrogen energy aimed at creating a safe and secure society.
Future Challenges and Approaches
Toshiba Group will further deepen each employee's understanding of the concept of universal design, and will create UD products and services that incorporate user feedback and ideas. We will also promote UD in the workplace.
Policy Related to Universal Design
To promote universal design throughout Toshiba Group, we have established our Universal Design Principle, Universal Design Vision and Universal Design Guidelines, and conduct development that incorporates our philosophy on UD and distribute Toshiba's UD-related information both inside and outside the organization.
Toshiba Group Universal Design Principle

Toshiba Group creates valuable products for providing peace of mind and delight to each individual user.
Toshiba Group contributes to achieving a society where everyone can live comfortably and enjoy peace of mind regardless of age, gender and abilities.

Toshiba Group Universal Design Vision

Making the unusable usable, making the difficult easy.
Toshiba's Universal Design makes products more user-friendly and safer.
Our aim is to design attractive products that even more consumers will want to use, through innovation and constantly improving the ease of use and convenience of our products.

Toshiba Group Universal Design Guidelines

Design that conveys the product's ease of use
Simple and intuitive use
Minimize physical effort
Provide the same effectiveness for all users, regardless of the user or the user's environment or circumstances
Pursue safety and reduce users' psychological anxieties

(The Guidelines consists of the above five main principles and 15 sub-principles.)
Universal Design Advisor System
Toshiba Group has a Universal Design (UD) Advisor System in place, in which employees with disabilities and non-Japanese employees are invited to participate. Approximately 90 people had registered for the system as of March 2021. Based on this system, employees registered as UD advisors can contribute to the development and evaluation of UD products and UD services, stepping beyond their own department. In FY2020, we conducted a survey on the actual conditions of teleworking of people with hearing impairment to improve internal training on learning how to communicate with them.
Development of Universal Design Products and Services
Toshiba Group develops products and services that apply a human-centered design process that emphasizes users' perspective to a wide range of business fields and incorporate as many customer needs as possible.
For details on our initiatives, refer to the Universal Design section on the Toshiba website.

Promotion of Universal Design
Communication with Outside Organizations
To spread and promote the use of universal design, Toshiba Group provides information on its own initiatives and the results of its activities and also actively collaborates with outside companies and organizations.
Activity Example:
Destination Control System FLOORNAVI Won Bronze Award in the IAUD International Design Award 2020
Toshiba Elevator and Building Systems Corporation is marketing a destination control system called FLOORNAVI that guides passengers wanting to move to the same floor into the same elevator by allowing them to specify destination before riding the elevator. The system relieves passenger stress and cuts time wasted by significantly reducing moving time during peak times, such as when commuting to work, thereby providing a more comfortable moving experience for users. The operation unit for FLOORNAVI has been designed to make it easy to use for diverse people, including those in a wheelchair. The registration device, which serves as the point of contact between user and system, has a simple and easy interface that is easy to operate even for first-time users, and card reader that allows registration in an easy-to-use position. The company's efforts to develop this product in view of universal design were recognized with the Bronze Award in the IAUD International Design Award organized by International Association for Universal Design (IAUD).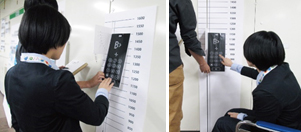 Activity Example:
Engaged in Hydrogen Energy Aimed at Creating a Safe and
Secure Society
Hydrogen is an energy that greatly contributes to the improvement of environmental problems including global warming because it does not emit CO2 when generating energy. We are engaged in hydrogen energy business with an aim to create a future society where more people can lead a safe, secure and enriched life.
In order to create a hydrogen society, we believe that it is necessary for the people to feel comfortable with and be familiar with hydrogen. We held a drawing workshop with students in Namie Municipal Namie Sosei Elementary School and Junior High School and children in Namie Nijiiro Child Care Center and designed an icon that will help communicate the broad usage of hydrogen in a simple way. The workshop was designated as a place where the children can learn about the mechanism of electricity and hydrogen power generation while they drew pictures as part of the activity to design the icon. We also aimed to gain many people's understanding of hydrogen, the new energy source, by using illustrations that even children can easily understand. The icon created is used on hydrogen trailers designed exclusively to carry hydrogen produced at Fukushima Hydrogen Energy Research Field (FH2R), one of the world's largest hydrogen demonstration facility.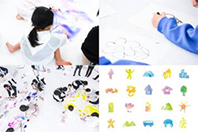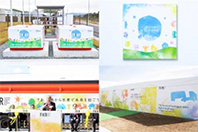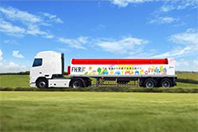 In-House Awareness-Raising Activities
Toshiba provides education and distributes information for employees to promote universal design internally.
In FY2020, we thoroughly formulated regulations regarding universal design promotion for Group companies in Japan and overseas.