High-Environmental Resistance Design
The following design policy promotes continuous operation to be possible even under severe conditions in the industrial field.
This helps that Industrial Computers can be applied to a wide range of uses in the industrial field where environmental conditions are severe.
Dustproof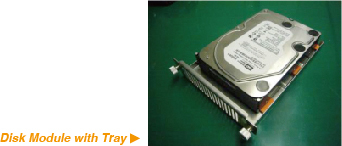 An air filter, a standard component, covers the cooling air intake.
The high internal pressure prevents dust from entering the main unit.
The forced intake fan and exhaust fan maintain the high pressure inside the main unit.
Vibration and Shock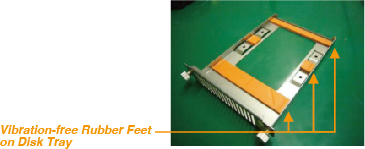 The chassis is designed for high resistance to vibration, using vibration-free rubber feet for HDD, for example.
Connectors with highly reliable contacts are utilized.
Whenever a new connector is applied to the product, it is evaluated by a high-level evaluation method in an in-house laboratory.
Disk option: Silicon disk (for FA2100S model 300/200)
Example of Gaskets Installed in FA2100S

Noise
High-level Toshiba design standard
Electromagnetic Radiation Shield
→Gap-free chassis design (e.g. gaskets in expansion bus slot window)
Reduction of Electromagnetic Radiation Sources
→Appropriate position of bypass capacitors and noise filters on printed circuit boards
→Examination of component positions and signal patterns to control unnecessary electromagnetic
radiation from printed circuit boards (resonance analysis)
Test standards and the EMC Test Center support the in-house development process with high-level evaluation technology.
Toshiba issues a declaration of conformity with "CE Marking" for Toshiba products. Toshiba products are also certified by "UL" and "CCC".

EMC Test Center and its Anechoic Chamber