FA3100G model 1000
The sales of this product ended in December 2014.
Easy-to-Use, Highly Reliable, Good Performance: Toshiba Tradition
This is the first of the FA3100 series designed by Toshiba and made in China.*
However, the traditional characteristics of Industrial Computers remain Toshiba quality easy-to-use, highly reliable, good performance.
* Product release: December 2010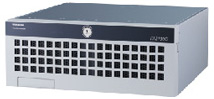 High Speed and High Performance
Dual-Core Processor Built-in
High-performance CPU Intel Pentium Dual-Core processor E6500 (2.93 GHz) is built in for high-speed processing.
High-Speed, High-Performance Chipset and Windows® 7
The Intel chipset of Q35GMCH + Intel ICH9DO is employed for high-speed data transfer. Compatibility with Windows® 7 satisfies a broad range of customer needs.
Stable Operation Design and Support
Technology and Quality that Support 24-Hour Continuous Operation
Highly reliable, long-life parts are used, based on assumption of 24-hour continuous operation. The hardware is designed with derating taken into account. Toshiba has been focusing to achieve high quality by performing pre-shipment function tests and temperature tests conducted to determine that the product specifications (in the temperature range of 5 to 40°C) will be fully satisfied.
Stability of Operation over a Long Time
To ensure stability of operation, the hard disks with a high failure rate are put to screening tests before shipment and long-life aluminum electrolytic capacitors made in Japan use. The motherboard is impedance-adjusted for stability of signal transmission. The product is designed to prevent noise and static from external devices, thus assuring trouble-free operation for the customer.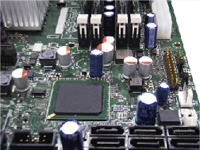 RAID Available (Type R)
The hot swap function permits replacement of failed hard disks without computer shutdown. If an error occurs, it is indicated by the corresponding LED.
Self-Diagnostic RAS Function
The advanced RAS function monitors computer operation, and detects and notifies errors. It ensures high reliability by supporting stability of operation around the clock.
Product Supply over a Long Time
The Product will be Available for a Long Period of Time.
The product will be supplied for four (4) years after product release, and maintenance service will be available for three (3) years after the suspension of its production. This will facilitate software re-authentication at a time of computer replacement and shorten the time required for redevelopment. Long use of the product will help reduce industrial waste.
Good Maintainability
The Hard Disks can be Replaced from the front.
The hard disks, parts with a limited service life, can be easily replaced from the front of the main unit.
Reinforced Security
The main unit has a security key lock, as a standard component, on the front to prevent illegal accesses.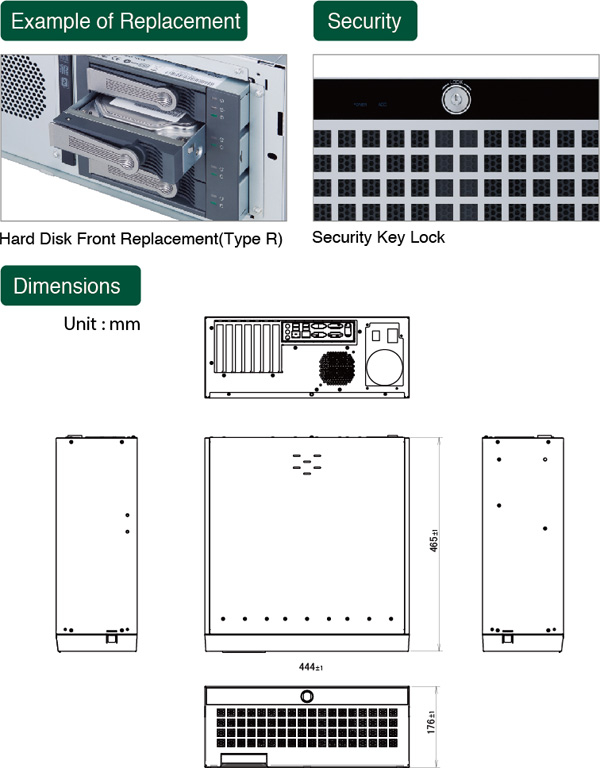 Specifications
This table can be scrolled horizontally.
Specifications
FA3100G model 1000
Type E
Type D
Type P
Type R
Processor
Main Processor
Intel Pentium Dual-Core processor E6500(2.93GHz)
Level 2 Cache
2MB(CPU built-in)
Chipset
Intel Q35GMCH + Intel ICH9DO
Main Memory*1
Memory
DDR2 SDRAM(DDR2-800)
Capacity
1GB (512MB x 2)
2GB (1GB x 2)
4GB (2GB x 2)*2
Auxiliary Storage
Built-in HDD
250GB SATA 7200rpm x 1
250GB SATA 7200rpm x 1
250GB SATA 7200rpm x 3
Built-in DVD Super Multi-Drive
None
Super multi-drive
RAID Compatible
None
RAID1+HS
Display Control
Graphic Controller
Onboard (with Q35GMCH)
Graphic Display
Analog RGB
Interface
Serial Interface
RS232C (D-sub 9-pin) x 3ch (rear)
Keyboard Interface
PS/2 x 1ch (rear)
Mouse Interface
PS/2 x 1ch (rear)
USB Interface*3/*4
USB x 2ch (front), USB x 4ch (rear) (USB 2.0)
Audio Interface*4/*5
LINE IN/LINE OUT/MIC IN (3.5φ stereo mini-jack) (rear)
Ethernet Interface*4
10 BASE-T/100 BASE-TX/1000 BASE-T (automatic switching, RJ45) x 2ch (rear)
Display Interface
D-sub 15-pin x 1ch (rear)
Expansion Interface (No. of Slots)
PCI
PCI slot (32 bits/33 MHz) (full size) x 3 (half size) x 1*6*7 PCI 2.3
PCI Express x4
PCI Express slot (full size) x 1 *8 PCI Express 1.1
RAID disk model: 1 slot exclusive to RAID board
PCI Express x16
PCI Express slot (full size) x 1 *8 PCI Express 1.1
Software
OS (Operating System)*9*10
None
Windows® 7 Ultimate (Multi-Language version) (32bit)
Windows® XP Professional (Multi-Language version) (32bit)*11
RAS Function
Fan stop detection
CPU temperature rise detection
Internal voltage detection
Watchdog timer
Power Supply (Wide Range Power Supply)*12
Rated voltage: 115 VAC (60 Hz)/220 VAC (50 Hz), fluctuation range: 100 to 264 VAC, rated input frequency: 50 Hz/60 Hz
Electric Power Consumption
Max. 306 W/313 VA (without display)
Dimensions and Weight
444(W)×176(H)*13×465(D)mm (without projections) Weight: about 15 kg
*1 A dual channel memory configuration requires installation of storage devices of the same capacity. Operation will not be guaranteed if you pair other than genuine storage devices for Toshiba industrial computers.
*2 If a 4 GB memory is installed, the available memory value will be about 3 GB in order to reserve the memory address area for PCI device, etc.
*3 USB interface does not always guarantee the operation of all the USB peripherals.
*4 Enable/disable can be set using the main unit's BIOS.
*5 Use connecting units that meet the specifications at right.
*6 PCI slot board (size 312 mm long x 107 mm high maximum) can be built in.
*7 Installable PCI boards are 5V key boards and 5V/3.3V shared key boards. (Boards of 3.3V keys only cannot be installed.)
*8 PCI Express slot board (size 312 mm long x 111 mm high maximum) can be built in.
*9 OS supply period is subject to change depending on the OS distribution period of the OS supplier.
*10 The product itself and OS recovery media are compatible with OA (OEM Activation) so that there is no need for Windows license authentication after OS recovery or hardware reconfiguration.
*11 Pre-installed models (Types P, R) have support for their pre-installed OS.
*12 This model has a power supply with a built-in PFC (power factor correction) circuit. If you are using a UPS (uninterrupted power supply), select a sine wave output type.
*13 Rubber feet not included
Specifications of the Accessories to FA3100G
This table can be scrolled horizontally.
Specifications of the Accessories to FA3100G

| | |
| --- | --- |
| Spare Filter, Front Air Filter | 1 set (4 filters) |
| Rack Mounting Parts | 1 set (2 pieces) |
| Rubber Foot | 4 pieces |
Installation Environment Conditions
This table can be scrolled horizontally.
Installation Environment Conditions
Installation Environment
Temperature (Operating)
5 to 40°C*1
Humidity (Operating)
30 to 80% RH (no condensation)
Vibration (Operating)*2
2.45m or less/s2
Vibration
(Non-Operating)
4.90 m or less/s2
Shock (Non-Operating)
392 m or less/s2 (shock time:11msec, waveform:half sine wave)
Corrosive Gas (Operating)
No corrosive gases to be detected
Allowable Instantaneous Interruption Time
No malfunction within 17 ms (at rated input of 220 V, instantaneous interruption intervals of 10 s or more)
*1 At ambient temperature in homogeneous space and temperature gradient of 10°C/h maximum.
*2 Except during the operation of an auxiliary memory other than HDD.