TOSHIBA BATON: Round-the-world trip achieved
[13th December, 2013]
On 13th Dec., the runner has completed the 40,000 km "round-the-world" trip on TOSHIBA BATON, a website where Toshiba Group employees from all over the world post and share photos related to the "environment."
The runner runs the distance of 40,000km in accordance with the number of the posts and "supports" from the viewers (the number of the clicks on "SUPPORT button").
TOSHIBA BATON started its service in June 2012, aiming to introduce the environmental activities rolled out by Toshiba Group and also to enhance a keener environmental awareness among the employees. Numbers of posts from employees all over the world and "supports" from the viewers around the globe have enabled the cyber runner to safely make the goal line. Abiding by it's initial promise, Toshiba has made a donation to the conservation of "Koajiro forest" in Kanagawa prefecture, Japan, where a precious watershed ecosystem is conserved. Employees' aggregated consciousness toward the environment and great support from the viewers have dedicated to the conservation of a forest which is known for its lush greenery.
The runner is now getting ready to launch its second lap around the world.
TOSHIBA BATON will continue introducing diverse environmental activities, including its report of Global Environmental Action initiative, taking place in various countries of the world.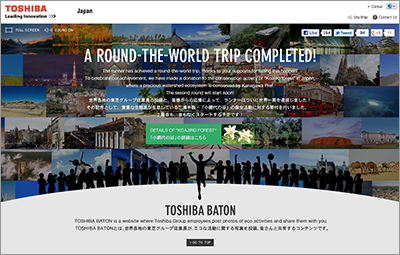 TOSHIBA BATON