Toshiba joined "Earth Hour 2012" in many countries
[2 April, 2012]
Toshiba joined "Earth Hour 2012" on March 31, switching off neon signs and billboards in major cities around the world including the landmark billboard in New York's Times Square. Employees also cooperated in energy savings.
Activities in production sites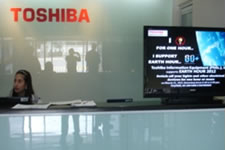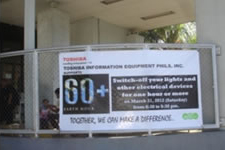 In Toshiba Information Equipment Philippines, promotional materials were displayed for employees' awareness


Signboard in Saku Operations


The lights in CET Toshiba (Henan) Switchgear Components Manufacturing were switched off


Signboard in Ome Complex
The neon signs and billboards in the following cities were switched off.
Japan
North America
New York ("Toshiba Vision Times Square")
Europe
China
Beijing, Shanghai, Hong Kong
Southeast Asia
Bangkok, Jakarta, Hanoi, Delhi, Manila
"Earth Hour" was launched in Australia in 2007 by the World Wide Fund for Nature (WWF) and the Sydney Morning Herald. It seeks to raise awareness of climate change by encouraging people to turn off unnecessary lighting at the same time and date. In 2008, it went global. This year, the event was held from 8:30 to 9:30p.m on March 31. A shadow moved across the globe as people all over the world turned off non-essential lights to cut consumption of electricity.
Toshiba Corporation in Japan started to participate in Earth Hour in 2010, and since then, continues to participate in the event every year.
Related Links