Toshiba Group joined "Earth Hour 2011" in many countries
[7 April, 2011]
From 8:30 to 9:30p.m. on March 26, a shadow moved across the globe as people all over the world marked "Earth Hour 2011" by turning off non-essential lights to cut consumption of electricity. Toshiba Group participated in the event by switching off neon signs and billboards in major cities around the world, including the landmark billboard in New York's Times Square. Employees also cooperated in energy savings.
"Earth Hour" was launched in Australia in 2007 by the World Wide Fund for Nature (WWF) and the Sydney Morning Herald. It seeks to raise awareness of climate change by encourages people to turn off unnecessary lighting at the same time and date. In 2008, it went global.
Held as usual on the last Saturday of March, "Earth Hour 2011" set a new record as some 130 countries and regions participated in the event, with contributions from many communities, companies and individuals.
Toshiba Group participated in many cities in many countries, including Beijing, Shanghai and Hong Kong, Hanoi and Ho Chi Minh City, Jakarta, Mumbai, Paris, London and New York, turning off lighted billboards and promoting energy saving to employees.
Toshiba Corporation in Japan started to participate in Earth Hour last year, but this year many of the company's signs have been switched off since the March 11 earthquake, as an energy saving measure.
The WWF also made "Earth Hour 2011" in Japan an opportunity to support recovery from the recent disaster area and many Japanese people saved energy wishing for the full recovery of Japan. Around the world, before the Earth Hour time, many people offered a minute of silence for Japan.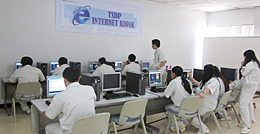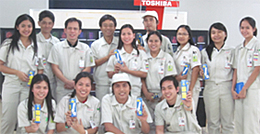 In Toshiba Storage Device Philippines, employees participated in virtual lantern making project organized by WWF, and Compact Fluorescent Lamps (CFL) were also given to the first 100 employees who partook in the project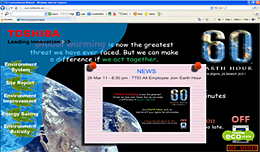 Promotion on the environment homepage of Thai Toshiba Electric Industries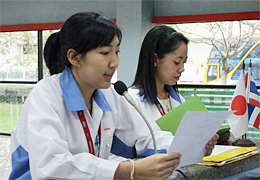 On-line announcement in Toshiba Semiconductor Thailand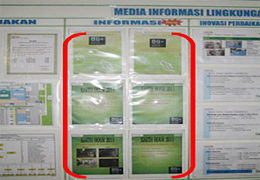 Board Information in Toshiba Consumer Products Indonesia
Related Links